There's something about the vastness of the ocean that moves me.
I can't explain it, but I love it. The waves rolling back and forth. The foam tickling my toes and seeping back into the sand.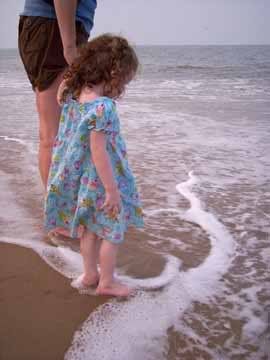 There is always such a sense of freedom there, a sense of frivolty and fun. Everyone at the beach is smiling.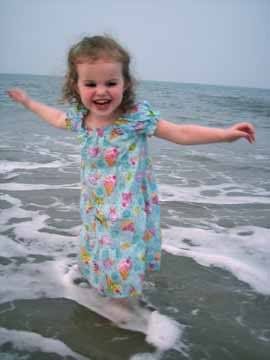 When my girlified friend Miss "K" asked me if I wanted to go to the beach with her this weekend I immediately said yes. Not only would it help me get over James leaving this week, but it would also be loads of fun. A total girl trip, jewelry and kitchen stores included. What girl can say no to that?
My big adventure of the weekend was learning to crab. Can you believe it? I've officially had my very first crabbing experience. What fun! So you take some old chicken necks (we used some that were over a year old - frozen, of course) and tie them to a string and throw them over the edge of the dock.
The little crabbie grabs the string with his claw and starts nibbling away at the chicken. (which is so putrid that little acid bubbles sizzle on the top of the water when you throw the chicken in...talk about salmonella, eh?) The baby crabs don't know any better so they don't let go of the string when they see sunlight. We could sometimes pull them clean out the water and watch them nibbling away. Of course, because they are so small we have to throw them back in...far enough away they don't come back to let us catch them again...which they do anyways, silly things. They'll learn someday.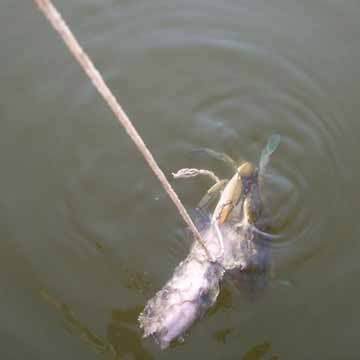 I loved it. It was worse than sticking a hook through a worm. The tomboy in me shone through all my "pinkness" and "laciness" and I sunk my fingers into that nasty chicken and tied my tough knots and caught myself a crab.
When we walked around the corner of the house with our whole 3 crabs I caught Chloe sitting by herself, looking a little like a deer in headlights.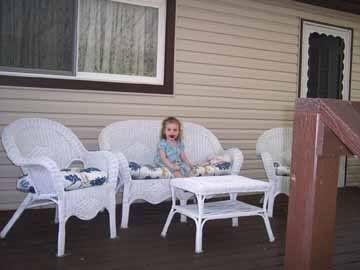 I was told she had somehow managed to find her nuk in her luggage in the bedroom and come outside with it in her mouth. Miss "K"'s mother knew that the nuk is only for bedtime and so she mentioned that to Chloe. Upon hearing this information, Chloe walked back into the house and reappeared moments later with her blankie. She proceeded to climb up on this wicker chair, stated "I go ni-night" and there she sat until I came around the corner about 20 minutes later with my bucket of 3 crabs.
Later that evening, we were packing up the car to head home and Chloe was sitting in the front seat watching us. As we gathered at the front of the car to decide if we had all our stuff, I looked over and saw this peeping out at me.
What a goofball. With a kid like this our summer is bound to pass quickly and soon it will be time for Daddy to come back home to us. Oh, how I miss him. He is finally at his location and has started work this weekend. Now begins the countdown for his homecoming.
Well, its time for me to run along. I promised a little girl I would play Barbies with her. Its gonna be loads of fun. I do believe Bugs Bunny is stopping by for a visit tonight. Have a great evening everyone. Call you father and let him know you appreciate him. Daddy's love that. (I know mine does - which reminds me...I need to call him before Barbie can have her tea.)