Daddy bought Chloe a new ball before he left last week. You know those giant rubber balls that fill up the giant baskets in Walmart? Yup. That's them. Everytime we pass those baskets in the aisle Chloe insists that she "needs that one" and I, of course, tell her that she does "NOT need that one" and quickly manuver my cart around it.
Well Daddy, being the kind and benevolent father that he is, purchased the ball after Chloe said, "I need that one" and fluttered her eyelashes at him. (you know how that goes...) This ball has now become the prime toy in our household, taking the place of her mini Bugs Bunny (which, up until last week, she carried with her everywhere) Chloe loves to "go bumpy" on her new "bumpy ball".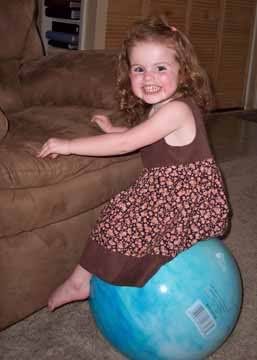 This keeps her entertained for hours at a time. Why on earth didn't I buy this thing before? Okay. Not really hours...more like minutes, but as any mother of a 3 year old can tell you...anything that keeps the kid occupied for longer than 30 seconds is a beautiful thing.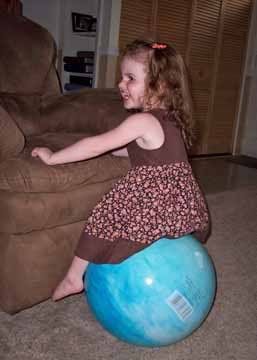 I have been overwhelmed with love and support since James left last Wednesday. I've never recieved such support all the other times he has left. I am amazed and humbled by it all. Let's just say that my worrying over being bored and lonely this summer flew out the window. Right out of the window and into the bright blue sky. In fact, I think I will be bored and lonely when James returns home. No. Just kidding. But seriously. I've had something to do everyday since Friday. We went to the beach with Miss K on Friday and spent the night at her grandmother's. Drove home late Saturday night. Church on Sunday. BBQ at Miss K's mother-in-law's Sunday afternoon. Monday evening Miss K came over and we started a new project. (more on that later) Today Pam called me up and asked us if we wanted to go to the park with them. I immediately said YES!!! I knew Chloe would love to see her best friend Daisy.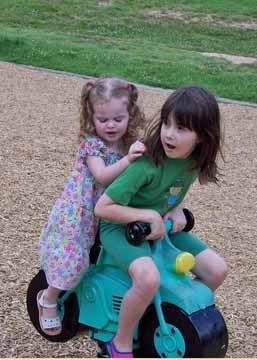 Chloe adores Pam's daughters, Chloe and Daisy. She actually asks to go to visit them every single day. Today was the perfect day for the park. The weather was nice and cool and so the slides and swings weren't hot. Chloe pushed Chloe on the swing.
And then Chloe pushed Chloe on the swing.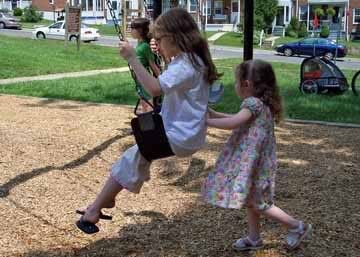 Get a little confused there? We actually call them Baby Chloe and Chloe to keep them from getting mixed up. Most everyone at church calls my Chloe "Baby Chloe"...or "Little Chloe".
Now, back to my mention of a new project Miss K and I started last night. A few weeks ago we discussed the idea of throwing a tea party for some of the ladies in the church. We talked about the fact that we don't know hardly any of the ladies in the church and we needed to have an opportunity to get to know them better. Sunday mornings is too hard because of the amount of people. We tend to see the same people sitting around us and talk to only those people. By the time you say hello to all your friends, its time to go home. So, we decided we needed help.
We are throwing a tea party but we are only inviting 4-6 ladies per time. That way we can get to know the ladies that attend better on a more intimate level. We even stated such on the invitation so they would know they had better show up or else Miss K and I will be having tea by ourselves. No...just kidding. (boy...am I in a mood or what today??)
Sunday is our tea party. Miss K brought over a special little tea wallet last night to show me. She saw one at a craft show one time and so she went home and figured out how to make one herself. She modified hers to fit our style and then showed me what she did. You can guess what I then did.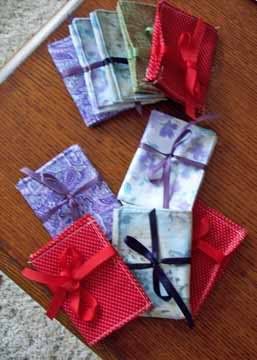 Yup. I got up this morning and made 10 of the little suckers. They were so simple. I can't tell you how I made them though...because we are going to sell them. Miss K is going to open up an Etsy shop and between the two of us, we should sell loads of them. These things are so darn cute. Take a look at one.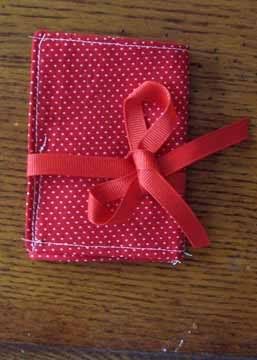 It really is like a tri-fold wallet, folded over twice. When you open it, you find three little pockets inside.
These pockets are for holding tea, of course.
They fold up small enough to fit in a purse or even the back pocket of your pants. How clever are they?
The sewing fun didn't stop there though. After we came home from the park and Chloe went down for her nap, I got out my
favorite shirt pattern
and made myself a pinkified shirt. (white with little pink flowers embroidered all over it)
This fabric is linen and a little heavier than I thought it would be made up. That's okay though, because this is still my
favorite shirt pattern
so far so I will wear this shirt often. Well, this shirt and the one I made on Thursday with the same pattern.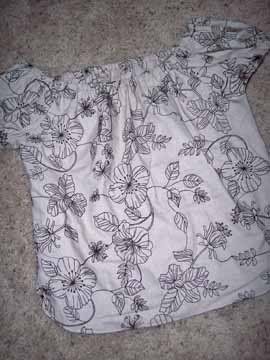 More linen fabric. (it was on sale a few weeks ago) I love this fabric so much that I was wishing I had bought enough to make a skirt instead of a shirt. But, I need more shirts than I do skirts so I will be happy with what I have.
I finished another something special today. Its so special and gorgeousomuss that it needs its own post though so I will make another post either tonight or tomorrow. I am off now to find some muchly needed chocolate and start working on Chloe's Fourth of July dress. I finally got the fabric washed and dried and it is now sitting on my couch waiting for me to cut it out.
Have a fantastical night everyone.