WHEW!
*feverishly wiping sweat from brow*
Its finally done. I know you are probably wondering if I even design things any more, what with all the sewing going on around here. I do, I do. Have no fear. I just have to take it a bit more slowly due to the carpal tunnel in the wrists and the hoards of fabric in the sewing room. Especially when I design my lovely thread dresses. They take longer anyways. And don't even
mention
frogging.
Please!
Frogging new designs in thread adds
so
much more time onto the project. Ugggg.
But all that aside, I completed it. I think this shall be my last thread dress for Chloe for a long, long time. I need to start designing thread dresses in newborn - 6month sizes. They don't take near as long as 18 month sizes. And if all else fails, I can simply turn around and sell them on
my website
or on
Etsy
. Ahhh....then I could cheat and work on them
two
days a week. Design day
and
Boutique day. (which reminds me...I think I need to take away one of the sewing days and create a second design day. Monday just doesn't have enough hours to get any designing done at all)
Without further ado, I present to you Gretal's Petals Ensemble.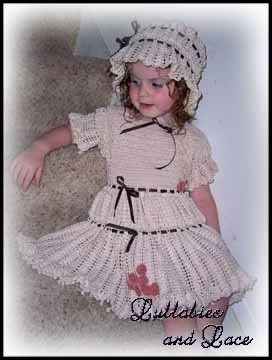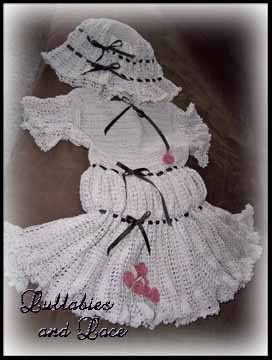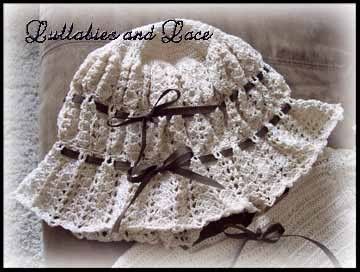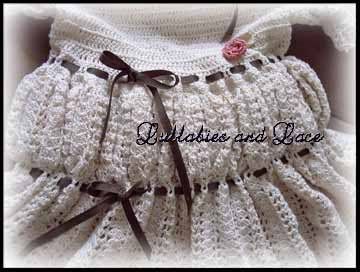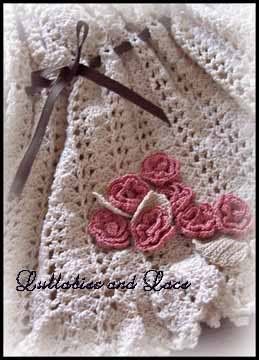 Now I just need to get around to typing her up so she can get into testing. I aim to get that accomplished before I head out to the folk's next week. This dress will be available in baby and toddler sizes. WoooHooo! If you wanna test it, check out my
testing forum
. This pattern should be ready in the next couple of days!