Easy-to-Sew, eh? I wonder what
that
means? Simple seams, maybe? No hard curves? Because last night I learned what Easy-to-Sew does
not
mean.
Easy-to-Sew does NOT mean
...
~ you should start the project at 10:00 at night.
~ there won't be millions of little pieces to cut out.
~ there won't be a ton of steps to the project.
~ it will be
quick
to sew.
~ you should begin sewing buttonholes for the second time in your life at midnight.
~ you won't need your seamripper.
All those misleading thoughts regarding the term "easy-to-sew" on the front of the pattern put aside, I did manage to get the dress finished this morning. After about 20 minutes of fussing with the buttonholes last night, I gave up and finally went to bed. Needless to say, I found them fairly easy this morning. I think they should mention these things on thier pattern package somewhere. "Easy-to-Sew" can be very misleading.
Anyways, I spose you would like to see the fabulous dress? I will gladly oblige. I now present to you, Chloe's Fourth of July dress.
I used
Simplicity 5540
for this dress. I love it. She looks so good in dark blue...which is the color of her eyes. I can't wait for the Fourth to get here so she can wear it. Okay, so she is wearing it today. I had to take pictures of it on her and she didn't want to take it off. Its her "staw dewess" after all. I am a bit surprised she didn't call it her "princess dewess" as she calls most of the dresses I have made lately. (she believes she is princess Annaliese from the Barbie movie)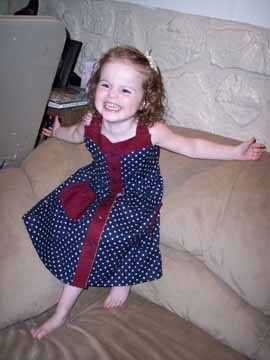 She loves the pockets. I showed her that she could put things in them and she grinned from ear to ear. I can only imagine what was going through her head as she thought about the possibilities. Endless. What excitement for a 3 year old kid.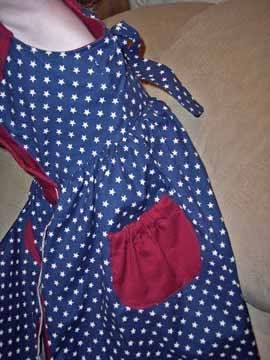 I took a picture of the good pocket because I didn't want to show you the pocket I sewed on backwards. Don't know how
that
happened, really...at 11:30 at night. (I simply cannot imagine at all) So, hopefully I can get the hat and shorts done this weekend to go along with this dress. At least the hat. I've never sewn a hat before so this should be interesting.
The Great Girly Ghan is finally finished as well. You have no idea how happy this makes me. One more WIP finished and out of the sewing/craft room. WoooHooo!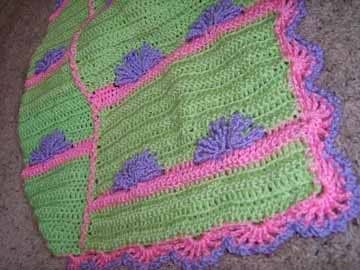 The only issue left is what to do with the thing. I bought the supplies about 2 1/2 years ago to make it for Chloe. My mind changed. After crocheting it I see now that its about the same size as the baby afghan I made for her so it can't really replace that. I thought it would be substantially bigger and more appropriate for a toddler/kid, but alas, its not. So, I do have options. One...Just keep the thing for Chloe anyways. Two...give it to a girl in the church who had a baby last week. Three...have a little bloggy giveaway and send it to one of you lucky readers. What do you all think? Do you want this lovely, bright afghan for your daughter or grandaughter?
Well, now...its time for me to head off and do something productive. I am thinking a teapot cozy or something. I need to do some baking today for the tea party on Sunday as well. Fairy cakes and brownies and scones. YUM! I'll chat at you later. Have a good one.