I snapped a couple of pictures of Chloe this morning as we were feeding Bob and Larry. (our two fish) Chloe told me she was "eyeing the hole".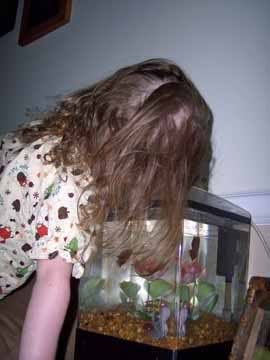 Then she wanted to "eye the hole my other eye".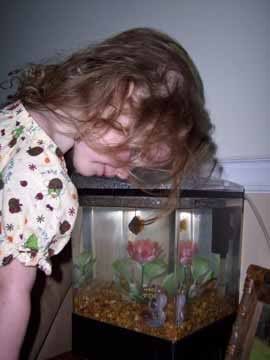 Its amazing I got some decent pictures I was laughing so hard. I've never heard her say "eyeing the hole" before nor have I ever seen her try to look at the fish through the hole in the top of the tank. This hole is about the size of a quarter and supposedly you feed the fish through this hole. I just take the whole top off. Imagine a 3 year old trying to get a handful of food through a hole the size of a quarter. That would take some fine gross motor skills to accomplish.
Immediately after snapping these pictures, Chloe says, "I see it...I see it." Meaning, she wants to view the pictures on the back of the camera. I showed them to her and she giggled. (maybe she realized how silly it was to "eye the hole". I don't know) Anyways, she then ran upstairs to her room and started jumping on the bed saying, "picture me for Daddy". Aha! What a brilliant idea. We should snap some pictures while she's in the mood to pose. I followed her with the camera and let her pose wherever she wanted to. (after getting her dressed, of course)
First she wanted to jump on the bed. ("jumpy bed" as she calls it.)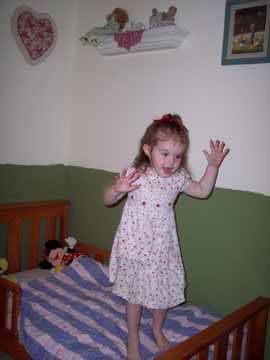 Then she hopped off the bed for, "I see it...I see it." I asked her what next and she said, "train, peeze."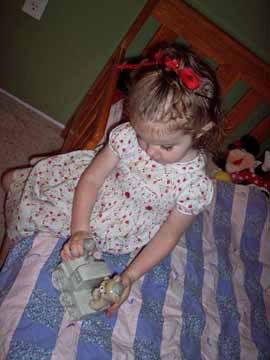 After another "I see it" session during which we looked through ALL the pictures on the memory card, she wanted to pose on the bed rail. It went something like this.
Mama: "What next?"
Chloe: "Uuummmmm"
Mama: "What do you want to do for Daddy?"
Chloe: "Uuummmmm....Here!!!"
Then she did this...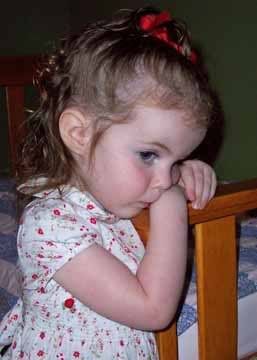 Does this kid pose, or what? She knows how to do it. She proudly wanted to see her picture so I showed her and then told her to do it again but to smile this time. She ran back and did this...
Oh my goodness...we have the makings of a model. (not that I would let her model, mind you, but she sure knows how to put on the glam) Then things started to get a little crazy. We had a "flip for daddy" time.
After which she spied her bumpy ball and wanted to pose on that.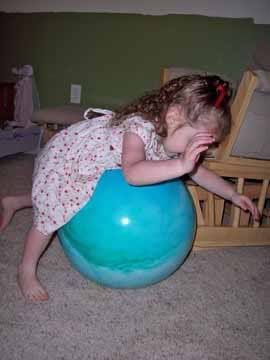 Then she rolled all over the floor for Daddy. (Fun! Its amazing how much fun rolling on the floor is for a toddler. She giggled and laughed the entire time.)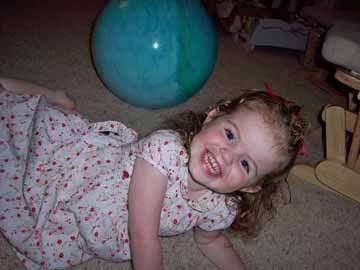 I thought Daddy might like a window picture so I asked Chloe if she would like to sit in the window. She jumped up and down and said, "Yay!" I took that as an enthusiastic yes.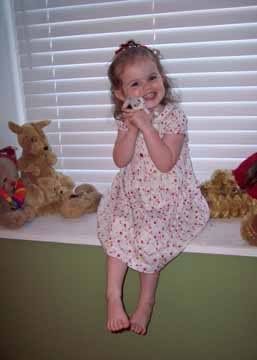 Bugs Bunny accompanied Chloe. (he was a little scared at first but Chloe showed him he had nothing to be afraid of.)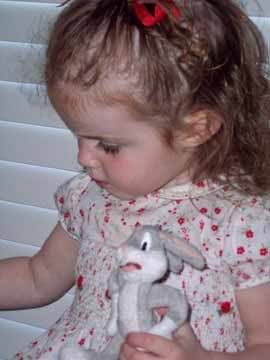 What a sweet kid. She did all this for her Daddy.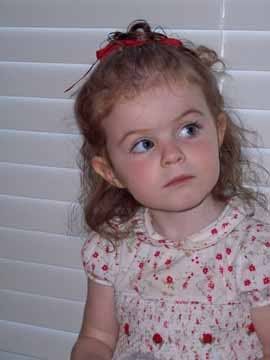 We love you Daddy!! Hope you are having fun in the desert with all that sand and heat.