Aside from my post yesterday, I haven't felt much like posting lately. And is it any wonder? Each day this past week was a "last time" for us and I wanted to savour every single second I had with my darling husband. We had our last time at the beach (and first time...and ONLY time this year) and we had our last time at church and our last time at dinner and our last time...watching a movie. Okay...so I am running out of ideas right now.
But during all this, I had to keep my hands busy. I had to get up and wash dishes so I wouldn't break down and cry. I had to vacuum the floor 2 times in a single day. I had to dust behind the television set. I just couldn't sit still. Well, thats not entirely true. I did manage to get some projects done but I just wasn't able to sit down and tell you all about them.
Today I am in a better place. I spent some time in my Savior's loving arms this morning and I am in a better frame of mind. He gave me a song. Go ahead and listen to this song while you are reading the rest of this post. (You can't help but smile and dance with this song playing)
So, I left off blogging last Wednesday with the "girly afghan". Update on that...its almost done. I have a few more ends to weave in and its complete. I rented a movie through the mail from Blockbuster last night and watched it while weaving. It really helped that the movie was horrible. I spent more time weaving than I did watching it.
Once Upon a Mattress
. Silly and just...well...silly. Not even a good silly. Just a "roll your eyes and wonder how they got people to act in it" kind of silly. Okay. So I did laugh in a few places. I must be totally honest with you. But I would never watch this one again. Too silly for my tastes. Nothing blew up.
I headed to Jo~Ann's Thursday to pick up a hope chest for Chloe. Look what I got instead.
AHHHHH! Quit yelling at me!!!!
I know, I know. I'm not supposed to be buying
any more fabric
. I know already. But listen. Just listen to me. Patterns were on sale so I HAD to buy them. I bought two that would work for Chloe's Fourth of July dress. I let her pick out which one she wanted and I headed over to the cotton section "just to see" if they had anything appropriate for Fourth of July dresses. When I saw that fabric above, I knew I had to get it. I don't have much time left before the Fourth of July and I need to get the dress made. I simply could not wait until I finished my Summertime Goal. Okay? Does that satisfy you? That is ALL the fabric I bought. I promise. Chloe picked out this dress.
Simplicity 5540
. Its going to be so cute.
I managed to get a nightgown done for Chloe before bed though.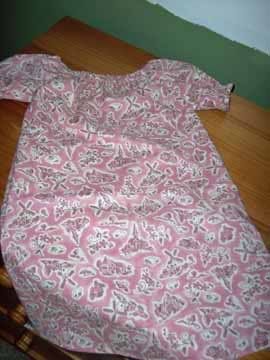 Friday was Boutique crocheting day. I managed to get two teapot cozies done. My goal was 4 but I spent most of the day wandering around, worried about yesterday getting here...so I didn't sit for very long. Just enough to get these two "mango" cozies finished. I call them mango but after looking at the wrapper on the skein of yarn I now know that its "papaya"...not mango. And mangos are really more of a yellow color anyways. Oh well. Mango these will be for now.
That's my 6 cupper and here's the 4 cupper.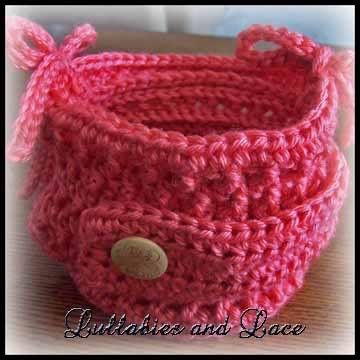 So these are for sale in my
Etsy Shop
. I opted to make just the teapot cozies without the mug cozies to see if they sell better seperately. I might make the mug cozies and sell those by themselves...who knows.
Anyways. Saturday we spent the day at the beach. Got sunburned. Hooray. The sad thing is, the pictures we took are currently en route to Iraq with James. The battery in my camera was dead so we took his camera to the beach and forgot to get the pictures off before he left yesterday. Oh well. Right?
Sunday I finally finished a doily I've not been working on for a few months now. (as opposed to
actually working
on it)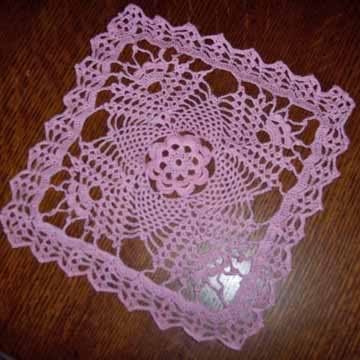 I used some gorgeous
Japanese made Olympus size 40 thread
in pink. This stuff is lovely to work with. You have to be careful not to let the slack get too far from the ball or it starts to twist while you crochet, but other than that it was a dream to work with. I made the June doily from
A Year of Doilies
called White Blossoms. (although mine is pink...like cherry blossoms instead.) She is now blocking outside. With the 90 and above weather we've been having, she should be done in...oh...say...12 minutes???
Yesterday was supposed to be WIP Wednesday, but my mind was so unsettled after taking James to the airport that all I could do was sew. So, I made doll clothes.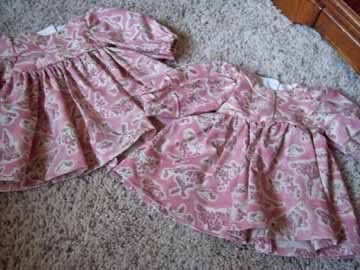 Two dolly dresses made from the leftover fabric from Chloe's nightgown. The fabric cost me $1.50. So that means I got two dolly dresses and a nightgown made for under $2. Can't beat that anywhere...even the Salvation Army. One of the dresses is for Chloe's doll and the other is for my sister's daughter. What little girl doesn't want matching dolly dresses for her cousin's dolls?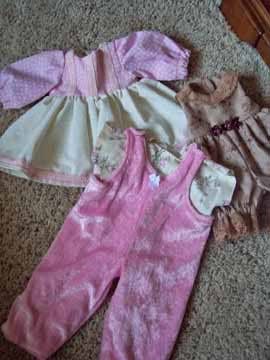 Then I got really into it and made up those outfits. I even embellished them. Something I've not done for baby dolls before. I had fun and it got my mind off the fact that James was on the plane, flying away from me. (which...huh...he still is 28 hours later. Hmmm...)
Well, now. It appears to be time for me to get off this computer and get that dress cut out for Chloe. I only have so much time for "naptime" and I need to take full advantage of it. I still have a couple of errands that didn't get done this morning and then I have my very first piano lesson tonight. Our music director at church said he would teach me to play the piano and all I have to pay him is chocolate chip cookies. (which reminds me...I need to get some made up for him. Not today though...I have no chocolate chips. Maybe Sunday?) Anyways, I thought that was a fair deal. He is good at piano and I am good at chocolate chip cookies. Fair enough, right? (as long as he doesn't make me join choir we are good) Have a great afternoon everyone. Say a quick prayer for James who should be arriving early tomorrow morning (think 'middle of the night' here) to his destination. Last I heard from him was 4:30this morning from London.