What a weekend!!! (spoken after I wipe the sweat off my forehead)
Friday I finished the dress and hat ensemble. Spring blossom in blue to be exact. I have to say this thing is darling and I only wish Chloe fit it so I could keep it. I added some brown ribbon trim which looks fantastic with the teal blue color. This ensemble will look stunning on some little girl somewhere.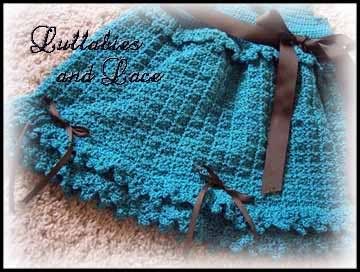 This ensemble will be added to my website as soon as I get a chance this week. I will also be adding it to my Etsy shop. I am thinking the price will be around $60 for it but I have to check my ordering form before I say for sure. I know it will be deducted a bit because I didn't make the bloomers to go with it. But I did make a hat.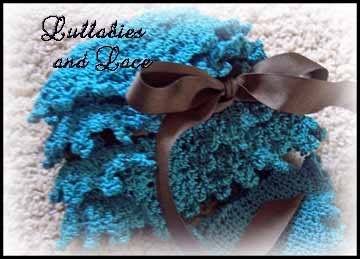 That is one of my favorite hat patterns I have designed. I love it. LOVE IT!
Friday night we headed over to our friends house and dropped Chloe off to spend the night with their little girls. Then we drove across town (or out of town, really) to spend the night in a hotel. Right next to the hotel was a movie theatre so we watched Indiana Jones before calling it a night. I have to say I wasn't that impressed with the movie. A few years ago this would have been a great movie in my opinion but I suppose my tastes are changing. I don't know. I would much rather watch Mary Poppins for the 112th time than most of the movies out today. Sad, really...the garbage they have to fill movies with.
Anyways, the purpose of our little hotel stay was so we could seek thrills and excitement at Six Flags on Saturday. After three rides on coasters (the best ones first) I got a little sick. I am thinking I should have skipped the huge (free) breakfast at the hotel and went with something a little lighter. James got in three more rides before they shut them down. Yes, thats right. They shut the rides down on us. Thunderclouds moved in our perfectly sunny day and withen half an hour we were running through lightening flashes and cats and dogs pouring on us. After shopping the little shops for about an hour, we decided not to wait for the weather to clear and headed out to the movies again. This time we saw Narnia, Prince Caspian. MUCH more to my liking. I loved it. They have done such a splendid job with those books.
Sunday...let's see...what happened Sunday. Oh yes. I sewed. I felt bad because I didn't finish much this past week so I used Sunday to do just that. I finished the 3 nightgowns I started Thursday.
Chloe told me that they are "pretty dresses" and she wants to wear them now. I had a hard time trying to explain to her that they were
winter
nightgowns and she had to wait a few months to wear them. Poor thing. Maybe I need to make her another summer nightgown this week.
Because Sunday is my day of rest, or "do whatever I want" day, I decided to sew some doll quilts with the leftover squares from the quilt I made Chloe last fall. (I am too lazy right now to search for the post to hyperlink to...so sorry) Here is the one I made for Chloe's baby doll.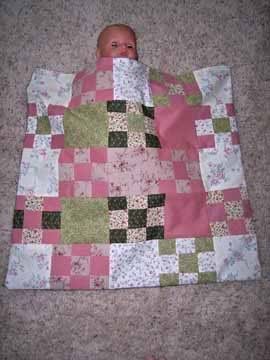 Then I made a second with the leftovers for my sister's kids.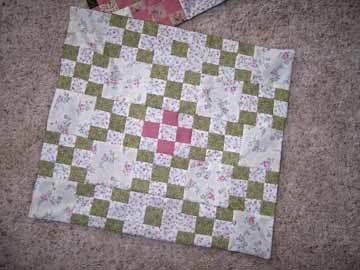 Today is supposed to be my day to design new patterns. Alas, I spent the morning at the DMV taking driving tests and sitting on a metal bench for 1 1/2 hours so I could legally drive. Unfortunately, I left my crochet in the car and was too lazy to walk out to get it. That and its sort of hard to keep an eye on an active toddler while crocheting in a giant room full of strangers. BUT...I passed all the tests and walked away with a driver's license. I suppose this thing will come in handy if I get pulled over or something. With James being gone this summer, we thought it wise for me to have a valid license. (we didn't realize that my license expired about 2 years ago...I was sad to have to give up my Arizona license...my last tie to the wonderful state I love)
I came home from that little adventure a bit tired. Its funny how things outside of my routine really tire me out. I napped with Chloe for about 3 1/2 hours. Man alive...I must have needed that. Then James took me out for dinner. Some nice person we don't know at chuch slipped James some money after they announced from the pulpit that James is deploying this summer. The guy told James to take me out for dinner...so he did. After dinner, James took Chloe and I to a tire park. We didn't know this place existed until last week. Its so neat there.
Chloe had a great time. We had to help her in certain places. Sometimes she wants to do the same things the 5 and 6 year olds do without realizing she's about half their size.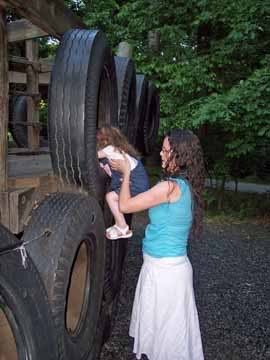 She can go down slides by herself but its so much more fun with Daddy.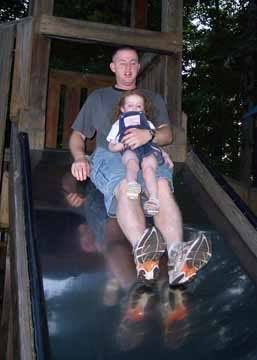 And James tried out his climbing skills as well. He conquered the mountain, at last.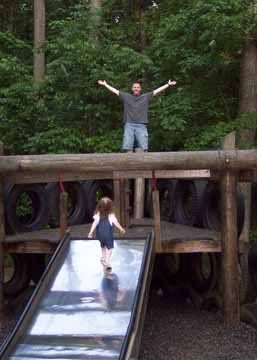 And here is James...in his element.
Those of you who know James will know that this is SOOOO typical of him. He has been doing this since he was less than two years old. We even have video somewhere of it. I should look for it. This guy cracks me up. I don't think he will ever stop being fascinated with flipping. What's funny is that the first time we "hung out" at work together (we met at work) he showed me his flip on the breakroom couch. I was in love from that moment on. (the chocolate brownie he shared with me helped too...)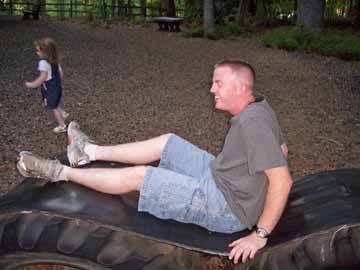 Ohhhh...I will miss this man while he's at war. I will miss the laughs and the hugs and the flips.
I must be going now. The Yankee game is on television and here I sit on the computer when I could be snuggling with my honey and some root beer. Have a great evening everyone.