Whew! What a day, what a day. I can't believe I am still playing catch-up from our little rendevous on Monday at the DMV. Its amazing what one day off does to my week. Amazing.
The good news is I had a chance to work on the girly afghan today. Not as much time as I would have liked, but enough to get the third and final panel done. Yup. All done. Now alls I have left is to join the panels, crochet the edging and weave in the ends. I am totally thrilled at the prospect of weaving in all those ends. Its going to be delightful. I've ordered some movies from Blockbuster to arrive in the mail and once they get here, I will have a movie/end weaving fest. I think I have
Singing in the Rain
due next. Or it could be
The One and Only, Genuine, Original Family Band
. I love that movie. Haven't watched it since I was a kid but I remember loving it.
Anyways, back to the afghan. I have a picture of the progress for you tonight.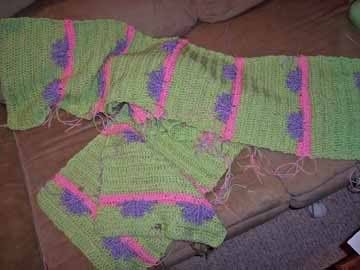 The only thing I hate about this pattern is that the entire thing is worked in double crochets. The worst part of that is they are all front loop only and back loop only...every other row. Its the pits. This means it takes about twice as long to complete the stitch as it would for a regular double crochet. Not really twice, but substationally longer.
This pattern came out of the Leisure Arts
Wee Floral Wraps and Pillows
leaflet. I think if I make another afghan out of this book, I will make the deliphinium afghan. Its sooo cute. I would make it white with pink deliphiniums though.
I have two patterns cut out to sew tomorrow after I run my errands. A doll dress and some summer pajamas for Chloe. I hope to get more than that done tomorrow but if we have another day like last week...well...then...that might be all I can do. We shall see. I have to tell you though, my sewing room does look much better than it did before I started this summertime goal. I can see a vast improvement already. I feel like I am not accomplishing much, but if I am already seeing a difference then I know I am.
Have a scrumptious evening everyone. I am off to take a bubble bath and go to bed.