I'll start with the Fourth stuff for you in this blog post. Seems a good enough place to start.
We had a lovely fourth of July, although the weather forecast claimed it would be otherwise. Upon waking Friday morning, we learned that thundershowers, rain and hail...possibly snow were headed our way for the evening. Ugg. Not what you wanna hear when you have plans to go swimming at the lake with a picnic supper and a blanket to sit on while watching the firework display.
We prayed.
We went anyways. The sun was shining and so we figured if it rained, we would have our umbrellas with us to protect us. If it hailed, we would run for cover under the trees. If it thunderstormed then the Lord would have to protect us. Besides, we thought, the lightening would more than likely hit one of the boats sitting on the water before it would hit us.
Nothing but a bit of a breeze happened. Of course, this breeze was enough to send us shivering to our blanket and towels for the remainder of the evening. Ahhh...but what fun we had. Let me show you.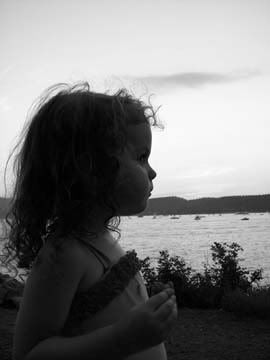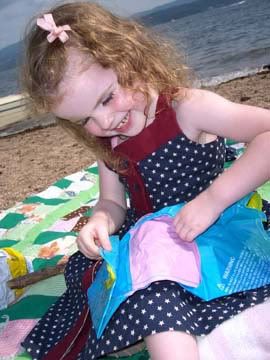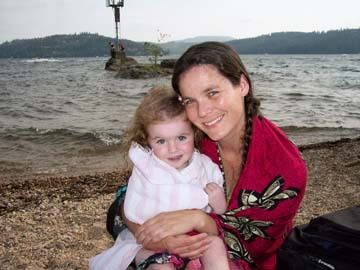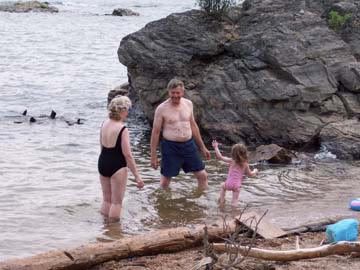 Now for the fishing pictures. We caught one fish last week. I need to buy a fishing license so I can fish and maybe catch enough to eat. I am hoping if I ask my Daddy, he will take me early one morning and we can fish, just the two of us. That would be so much fun. I miss having my one-on-one time with my Daddy like I used to have when I was a girl. I am a Daddy's girl.
Anyways, here are some pictures of our fishing fun.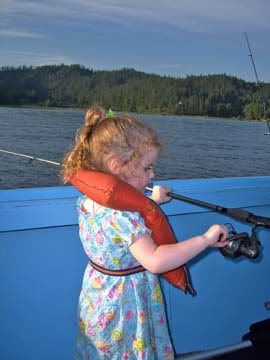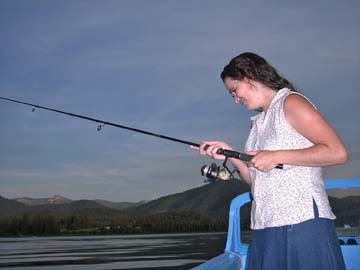 So...umm....ya. That's a picture of ME with a fishing pole and
NO LICENSE
! (Ummm...don't tell anyone, okay?) Hey! I was casting the line for Chloe, all right?
Chloe begged to carry the fish and she really did love doing so, but she sent out a few squeals whenever the fish hit her legs as she was swinging it along to the car. Poor thing...fish are such slimy little boogers. Would I carry it for her? Nah. I washed her legs off before I put her to bed that night.
Well, now. I am off to do a bit of sewing before its time for me to cook supper.(lasagne) One of my brothers is coming over with his family for dinner, a boat ride, some leftover fireworks and some smores. Its going to be a fantastic evening. I would like to get some yo-yo's sewn up though. I haven't had much time for anything crafty since I've been here so I have a little itch in my fingers. I will have to show you the fabulous suprise my mother and I made yesterday for my sister tomorrow. (we also made one for myself so I can match) I can't wait to show you.
Have a glorious afternoon and evening. Its a beautiful day!