I just adore it when little girls dress up. I love to see them acting so daintily, hours after chasing the dog through the mud. Its fascinating to watch the little princesses unfold and reveal their inner beings. Girl #1 (my sister's eldest) loves to play dress-up so, while we were staying at their house last week, she took the opportunity to dress Chloe up as a princess. You should have seen the transformation in my little girl. (who is already a very sweet little girl)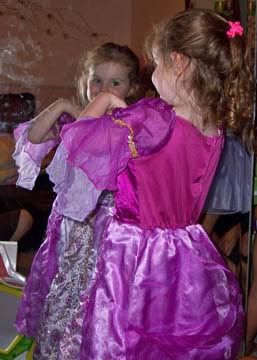 She pranced around the room, holding her hands carefully up at chin height (or chest height) She swayed gently back and forth to hear the swish of her "gown". She instantly became a little lady. It was so much fun. Now I know for SURE that we will be having a dress up party for her fourth birthday next spring. How can I not after seeing how much she adored it this past week?
In other news, my Mother took us to an art festival yesterday in which she entered some of her work. I love my mother's work. I took a picture of her next to her "clothesline art". This is original work that remains unframed so the cost to the public is much cheaper. They also must be smaller works and priced under $50. I told my mother that there was one painting of hers that I really liked and if it doesn't sell this weekend, I will buy it from her. She suggested that I can buy a print of it for cheaper but I want the original. When (if) I buy it, I will show it to you all. It really is beautiful.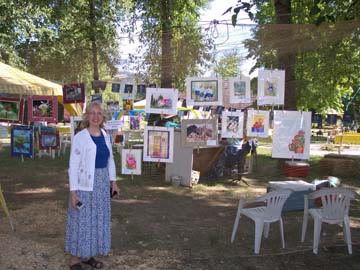 While at the art festival, Chloe experienced a bit of art on her own level.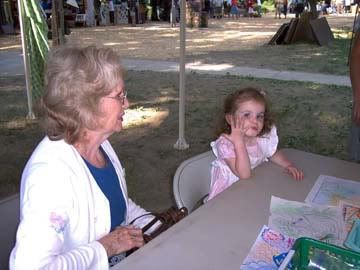 The children's section allowed her to "color" her own picture with braille stencils and crayons. These stencils are not like regular stencils. They have bumps on them that are the image and you place it under your paper and color over them with the side of the crayon. It was pretty cool. I think I would like to find some of these to keep in Chloe's "busy box" back home. It is a neat idea. She had a ball and her very artistic grandmother helped her along with it.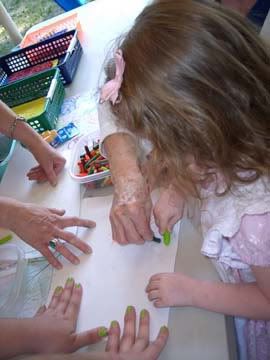 Yesterday afternoon Grandpa informed us that the cherries behind the parsonage here were ripe and ready to pick. We chose a bucket (plastic container) and headed out back to pick cherries. Grandpa reached the branch and pulled it down to our level so we could pick cherries to our content without having to reach way up high.
As usual, Chloe ate more than she picked. She nonchalantly stated over and over, "I like cherries." I guess its good. Cherries are healthy for you.
Well, now. I am off to pack up and head out to a wedding this afternoon. A lady I used to babysit for when I was a girl is getting married today. I am so glad I get to be here for the wedding. She and her new husband will be speaking at my father's church next Sunday and I get to hear them. They are missionaries in Africa so this should be very interesting. I hope you all have a blessed Sunday. Remember...God loves you unconditionally and there is NOTHING you can do that would remove that love from around you.