The past few weeks have been filled to the brim with precious memories, both for myself and for Chloe. That is, if she will even be able to remember at the age of 3...I remember things from that age so it could happen. James, on the other hand, can't even remember our highschool teacher's names. Its now a matter of who's memory little Chloe will inherit.
Anyways, back to what I would like her to remember. Her cousins. Chloe has been blessed with some of the cutest cousins there ever were. Check this out.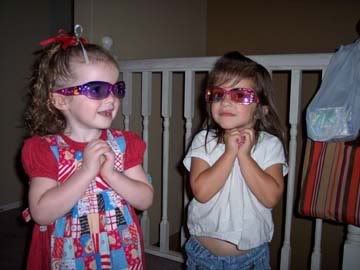 If I thought Chloe posing for the camera was cute, Chloe posing with Girl 2 was even cuter. My sister and I bought them each a pair of sunglasses the other day while shopping and they absolutely love them.
Last Friday I stayed the night with James brother and his family. We had a wonderful time. This is the brother who bakes the world's best pizza. (if you remember a couple of months ago, I posted about it when he taught us to make this pizza on quarry tiles in the oven) He baked pizza for my parents and I on Friday night. Afterwards, we headed over to his new house to roast marshmallows and eat smore's over a fire pit in the backyard. Chloe ate the marshmallows like they were going out of style. The older kids were poking the marshmallows onto sticks to roast them over the fire pit. Chloe copied them and poked the marshmallows onto a stick and then popped it into her mouth, skipping the whole roasting step. For some reason, she thought they had to be poked onto the stick in order to eat them.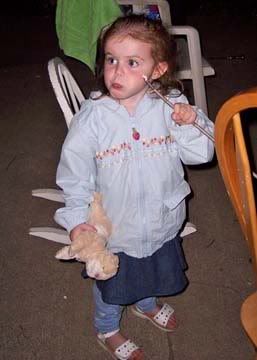 I believe she had 3 marshmallows in her mouth in the above photo.
Nephew N (James brother's youngest boy) went shopping one morning. It was adorable. He carried a plastic shopping bag around on one arm and a play cell phone in the other. He would chatter up a storm of unintelligible words.
The thing I suppose Chloe will remember most regarding this trip is all the "parks" her cousins have, right in thier own back yards. She thinks this is the greatest idea. Everytime she sees the swingsets out the window, she shouts "Park! Park!"
I wish Chloe could have a park in her own backyard at home but the garden is so small it would be impossible. Oh well...maybe our next house.
I had the privilege of teaching my neice to sew yo-yo's last night. She did fairly well considering. She thrived with that attention and it made me wish we lived closer so I could spend more time with my neices and nephews.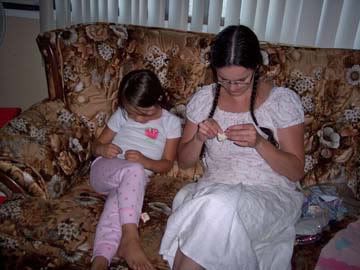 Yesterday was special for us. Very special. We got to visit and have tea with a very special friend. She is actually the mother of a dear, dear friend of mine. You all may remember my mentioning of my dear friend from junior high and high school, Mary? She is now living as a missionary in Africa. Well, I was able to spend a few hours with her mother yesterday. She took us to tea at a lovely little tea room and we talked and chatted the whole time. It was so special. Chloe enjoyed herself immensly.
The ladies in the tea room made special little sandwiches and things for Chloe. They also brought out a smaller teacup for Chloe to drink her white tea from. (milk)
Last week I took my very first kayak ride ever. Boy, this thing was fun. A little difficult to steer but fun none-the-less. My brother brought his kayaks to my father's house while we went boating around the lake and I was able to use the little kayak my nephew used. I was swimming in the water and so had to climb aboard the kayak from behind and pretty much underneath the kayak. My brother didn't think I would be able to because he can't do it and he said it was the hardest way to get into a kayak. I guess you are supposed to get in them from the shore or a dock and not while swimming in the middle of the lake. I must have looked a sight while trying to climb in because everyone was laughing behind me, but I managed just fine. I didn't even scrape my legs to shreds.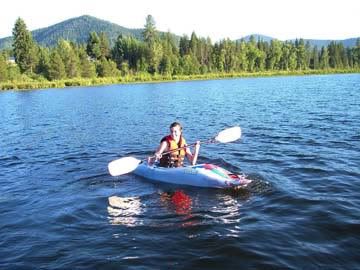 Well, I had better get off this computer so we can shower and get ready to bake some cookies with Girl 2 this morning. Girl 1 and Boy are at Vacation Bible School today so that leaves us with Chloe and Girl 2, who are only 3 months apart in age. This gives them time to bond together which doesn't happen when the other siblings are around. I hope you all have a beautiful day. Go out and make some precious memories of your own today.