Thank goodness we didn't actually have to row this boat, although there were a couple of times I thought we might. (and there
are
oars under the bow) Last week, Daddy was proud to take us around the lake on his little boat. He paid $100 for this wooden boat and fixed it up, not knowing if it was completely seaworthy or not. Well, lo and behold, it was and they have enjoyed it many times around their little lake.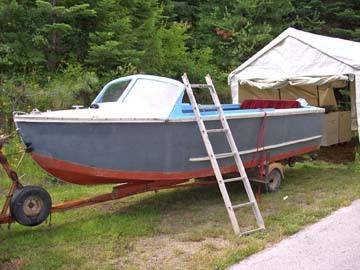 This boat cruises around the lake at turtle speed which suits me just fine. (it also suits Chloe as well) She can walk around the boat without me worrying of her falling over the edge. She can also DRIVE the boat.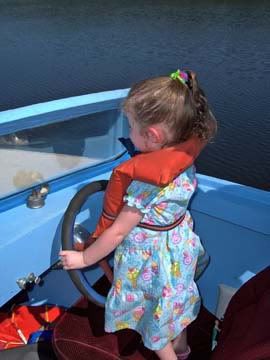 Yes, she actually DROVE the boat. For a whole ten minutes. (you can imagine the speed of the boat if a toddler could drive it for ten minutes around a small, 15ft deep lake) Ten minutes was the length of her attention span for driving which, given her usual attention span lengths, was quite long.
Here is a picture of my Daddy driving the boat.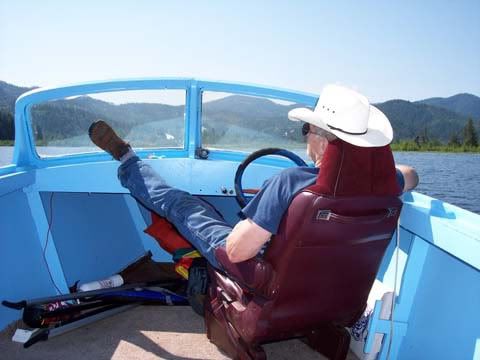 You can see that we were cruising at
top speed
here. (shown by Daddy's foot up on the dashboard. Had we been going at a more
leisurely
pace, he probably would've had two feet up, but at such high speeds of possibly 2 mph, one foot was all he would risk)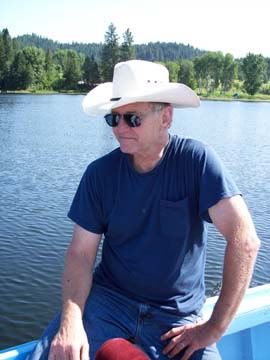 I think my Daddy is pretty clever. (what girl doesn't think her Daddy is the best?) He got car seats from the local "pull and save" and put them in his boat. The driver seat is a car's driver seat and check out the seats for the rest of us.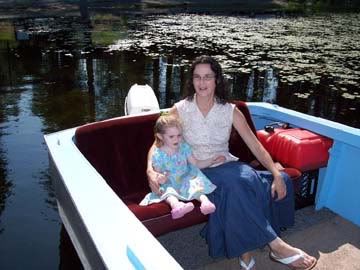 Of course, the ancient motor roars so loudly you can't hear anything, so we are more apt to sit on the lawn chairs in the middle of the boat. I love my Daddy and I love his boat. We had such a fun time. I will have to show you pictures of our fishing expedition when I get them edited. Things just take so much longer here at my parents house. They have dial-up internet and I am just not used to this. Somedays it takes me 45 minutes just to log on and access my email account. (not including actually
reading
the emails and replying)
For all of my friends out there in cyberworld, please bear with me while I am staying here. I am hanging in there and doing the best I can from this remote location. My priority is to get customers patterns emailed out. If I have time for other internet stuff, I email James first and then work my way down the list. I try to blog so I can keep everyone (including James) apprised of our whereabouts and happenings. I don't have much time to devote to pattern writing and testing (let alone designing) but I hope to get a little bit done in the next couple of weeks. If you don't hear from me for a while, please know that I am okay and doing the best I can.
I am off to browse through my mother's vintage apron patterns and scrap fabrics to see if I can come up with something cute for myself. I need more aprons. I found a vintage doll clothes pattern, but you all know how much we need more doll clothes. I did see a neat idea for displaying (and storing) doll clothes. I will have to work on it when I get home and then show you all. It really is a cute idea and I hope I can do it. I love you all very much and hope you have a blessed July. Talk at you later!