My mother has a couple issues of a Victorian Country magazine and while I was at her house I flipped through one of them. Gorgeous stuff. Absolutely gorgeous. No other word describes it quite as well as "gorgeous." One picture showed some fabric purses hanging on hooks on the wall. As soon as I saw it, I knew immediately what I was going to do.
Make some
.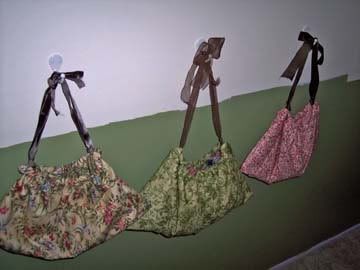 For what? For storage of course. Inside these cutesy bags are doll clothes. Now, instead of having them in plastic shoeboxes at the top of Chloe's closet, they are toddler height so she can play with them to her hearts content. (and put them away easily too)
Here is how I made these gorgeous and yet simple bags.
Step 1
- I used fat quarters. I simply sewed up the sides of two fat quarters for each bag. (fat quarters are on sale for 99 cents at Joanns right now)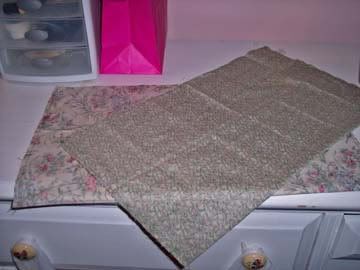 Step 2
- Invert the outside fat quarter so right side is facing. Leave the lining (the second fat quarter) wrong side out. Place the lining in the bag so seams match.
Step 3
- Sew 1/4" around top of bag to join lining to outer bag. You should be able to see the right side of the lining in the bag and the right side of the fabric outside of the bag.
Step 4
- Fold the 1/4" at top of bag to the inside along stitching and iron flat. Fold down again 1" and iron flat a second time.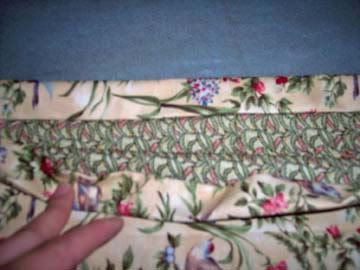 Step 5
- Sew along bottom fold to make a casing for the ribbon, leaving a 1" hole on either side of the bag at the side seams for the ribbon.
Step 6
- cut two equal lengths of ribbon and insert into casing, one on each side of purse so the ends come out the sides. Gather up the bag on the ribbon until bag opening is desired size. Knot the ribbons together on both sides close to the openings in the casing to keep the ribbon in place.
Step 7
- Now tie the ribbons together in a bow and hang on the wall.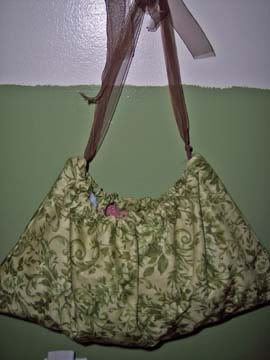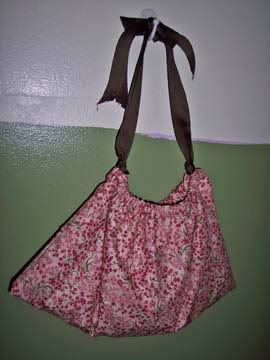 This project only took me a couple of hours to whip up (and screw the hooks into the wall with my drill) and I have to admit I like it a whole lot better than plastic shoeboxes.