The other day I was reading my Bible in 1 Thessalonians and I read the following verse.
1 Thess 1:2-3
We always thank God for all of you, mentioning you in our prayers. We continually remember before our God and Father your work produced by faith, your labor prompted by love, and your endurance inspired by hope in our Lord Jesus Christ.
Something struck me! Am I am encourager? The Bible tells us to encourage people, but what
exactly
does
that
mean? When I read the verses above, it hit me. Most of the New Testament books were letters written to various churches and more than half of them written by Paul. Most of them include a little introduction at the beginning like the one you see above. Stating what the church is doing that is good.
After realizing this, I wondered if that is what encouragement is? Simply stating to the people around us what they are doing right and what blesses us? Then I realized that I could be an encouragement to people around me. I can write letters to missionaries. I can tell them thank you for the work they are doing produced by their faith. Its sad to me how many missionaries leave the mission field because the wife gets too lonely and feels homesick. (of the kids or even sometimes the husbands. Most of the time its the wife though) Could I play a part in keeping missionaries on the field presenting Christ's gospel to other worlds?
I took up the torch this weekend and made some cards with my mother to send to my girlfriend
Mary in Africa
.
The little string of pearls is not attached yet. I am a little unsure of how I am going to accomplish that. I figured a few days of daydreaming might help me to solve this dilemma. Who knows. Maybe I'll hot glue it. Mama's got a gun. :)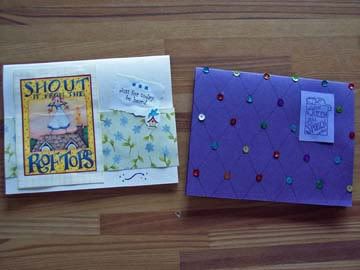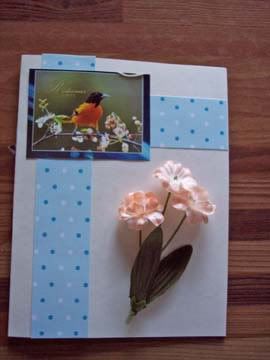 Same thing again with those flowers. I am not sure how to attach silk flowers to a card, but doesn't it just look darling with them??? The mimic the flowers in the picture that the bird is sitting on.
Then I made a card to send to James.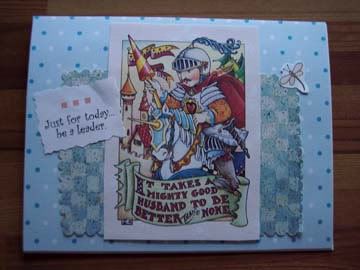 This is the quote on the picture. "It takes a mighter good husband to be better than none." Mary Engelbreit, of course. (
love
her quotes)
Since we were making cards, I thought Chloe would enjoy making some for Daddy as well. I got out her stickers and away she went.
So, I hope this will encourage whomever comes into contact with these cards. I am quite excited to realize just how easy this will be to encourage someone. Its a simple matter of stating what they are doing well. That is encouragement. A little note of thanks. A card. A phone call. It really is so simple.
What can you do for a missionary you know? Or a pastor? Or a friend? Or your parents? Or...perchance, your spouse???
Have a blessed day and smile at someone. (that counts as encouragement too.)