Sad, I know…but true. Here I present to you the story of two farm girl wannabe's visiting a farm. This particular farm is owned by my Uncle Bud. Its location is near the old cattle ranch that my Uncle used to own but sold a few years ago when he retired. I remember visiting that ranch growing up and I have nothing but fond memories of it. Stepping in cow manure, chasing barn cats through fields, even occasionally riding in the "tractor". (complete with air conditioner and everything)
Ahhhh!!! I dream. I dream. *sigh* How I wish I lived on a farm. Not a working farm, mind you. Just a hobby farm. A few chickens running about. Quilts hanging on the clothesline drying. A creek somewhere in the woods behind the house James built for me. Can't you just picture it? Two city bumpkins such as James and I are, settling down nicely into farm life. Hey! It's a dream, after all. I can dream whatever I want to dream.
So, the true test of whether or not we can handle farm life is whether or not Chloe would take to it. Right? So, I took her out for a test run on my Uncle's little farm.
Chloe saw the cows in the field and wanted to go to them immediately. Aunt Jeanine offered to take us out while she fed the cows so Chloe could experience her first cow up close and personal. We watched Aunt Jeanine pour the rolled corn into the trailer.
Chloe watched, fascinated by this whole event. She asked to taste the corn. She must have thought better of that idea because when no one responded to her answer she never reached for some. I guess it didn't look so appetizing after all.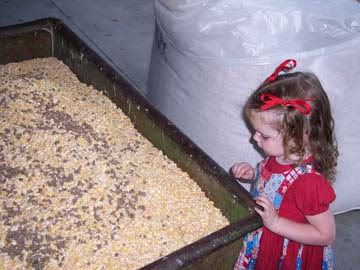 Then came the most exciting part of the whole experience. Riding on the tractor.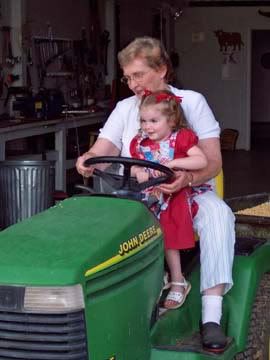 After the tractor made it through the gate, Chloe hopped down to walk towards the cows. The tractor was taking way to long and little farm girl wannabes have urges to see cows more quickly than tractors are capable of producing.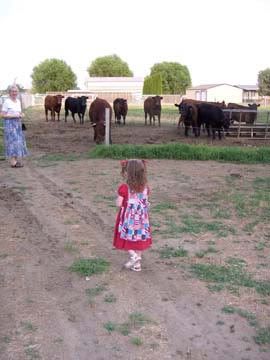 And the cow saw Chloe and thought "what is that coming towards me? Its not my dinner!"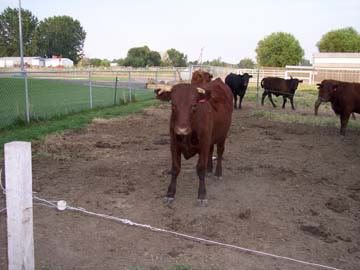 Ahhh…here was his dinner.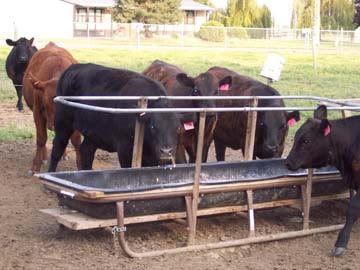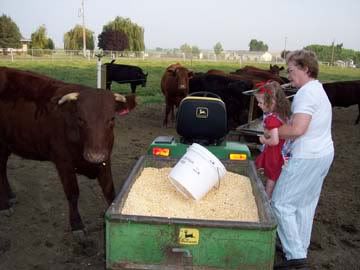 But the cow didn't want to eat with the others. He stayed by the tractor and ate the corn straight from the trailer itself. Little sneak! Aunt Jeanine kept shooing him away but he kept right on coming back for more. Chloe thought this was the funniest thing she had ever seen.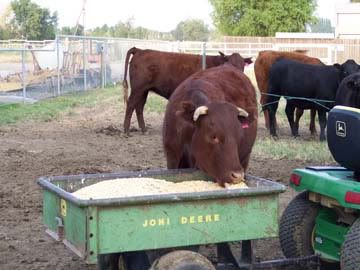 As soon as we finished feeding the cows and began walking behind the tractor to the barn, Chloe questioned, "where's the sheep?" Of course, Uncle Bud doesn't have sheep. OH...but Cousin Jeff and Melanie do. We can head there in the morning so Chloe can see some sheep. And guess what! She got to feed them too!!!
As soon as the sheep had their food and we were walking back to the house, Chloe questioned, "Where's the elephants?" Ummmm…fresh out, sweetheart. She then answered herself by stating, "Elephants in the barn." Huh...okay kid. Whatever you say.
Chloe then found a tractor her size and proceeded to drive it around.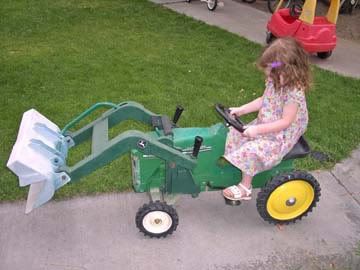 I would have to say that Chloe passed the farm girl test. She's officially a farm girl wannabe like her Mama. Of course, I did have to mark her down because of the elephant comment, but that doesn't matter all too much. She got the general idea. We are now ready for our own farm. (I think)