Oh me Oh my! If ever there was a quilter's heaven I surely have found just such a place as that. We visited the Bavarian village of Leavenworth this past week, located right in the middle of the Washington Alps. Betcha didn't know that Washington State has part of the Alps, did ya? Yes, its true. And right in the middle of these "alps" is the Bavarian village of Leavenworth.
We stayed in the cutest little bed and breakfast in this Bavarian village. A bed and breakfast with its own quilt shop inside. Ahhh! Like I said...Heaven! This quilt shop carries many discontinued and hard to find quilt books along with vintage fabrics. (of course, they also carry new things as well, but need I mention that??? The vintage is the part worthy of mention here)
The bed and breakfast is filled with vintage items gathered from antique stores by the owner as she travels to her various quilting shows throughout the land. You have got to see some of these quilts.
And a close-up of the same quilt.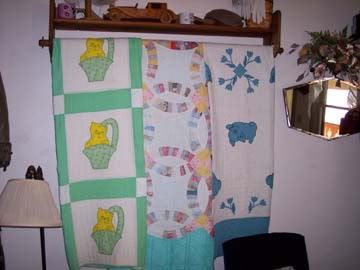 The quilt above was the feature quilt in our room. Grandmother's Flower Garden. One of my favorite quilt patterns of all time. If I had more Umph I would make this quilt. I am a little intimidated by the "hand piecing" portion of it though. (which is the WHOLE portion, mind you) If that wasn't enough inspiration already, check out some of her embroidered items lying about.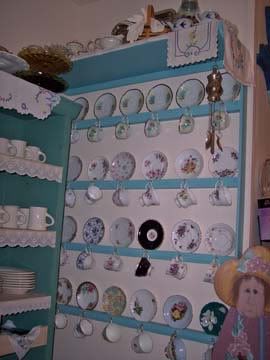 And aprons.
Okay. So need I tell you that the itch attacked and there was nothing I could do but search her extensive book collection to find the perfect item for me to work on in the evenings? And I found two items of such perfection that I needed both of them.
And I began straightaway on my new project. An embroidered quilt for Chloe. Three squares are complete, two of which I will show you now.
This will be my "Leavenworth" quilt. One thing I learned while visiting my Aunt Jeanine last week is that I need to sign my quilts. She embroiders or writes on a piece of fabric her name and the date she made the quilt along with any bit of information she wants to include about the quilt and why she made it. She then sews this piece of fabric to the back of the quilt for future generations to enjoy. I plan to do that with this quilt.
I now have ideas for the next 20 or so quilts I will be making. (don't ask me when I will be making them for I don't know the answer to that question. I dream big, however, and 20 quilts is not so big that I can't accomplish it in my lifetime. I just need to finish my first one.) I would love to make a memory quilt. Each square would represent a year in our marriage. I would embroider designs that have to do with that year…like wedding bells for when we got married or a baby in a cradle for when Chloe was born. I would also appliqué pieces to the quilt too. Like a shape of Germany for when we lived there or a tea cup when we lived in England. Each square would be unique and not necessarily the same size as the last one. I would even crazy quilt parts of it too.
Another quilt would be photographs that would be transferred onto fabric and made into squares. Wouldn't that be so cute? I would also love to try my hand at a Penny Square quilt. I am unsure how I would manage with all that red. It might get boring, I don't know. I could try though.
So, be on the lookout for this lady to be sewing a few quilts in the future. I can't help it. I have seen so many that I am now unable to stop myself from drooling. And hey! I am going to need quite a few quilts for my farm house whenever I get that someday. No farmhouse is complete without a plethora of quilts abounding in every crook and cranny.