I found a box of old family photos while as my parent's house and spent a happy afternoon browsing through them. Lo and behold, my mother walked into the room producing the photo album you see below. Inside I saw pictures of myself that I never knew existed. Pictures from my childhood. Even pictures taken of me as an infant before I was adopted. I had been told that we didn't own anything from that time. You can imagine how delighted I was to see a picture of me at 3 months old and how identical Chloe looked to me. Oh me oh my...what a delightful find. I don't have that picture to show you now but maybe in the next couple of months I can get my hands on it.
You see...I made a deal with my mother. I promised her that if I could take one photo album home with me, I would professionally scan the pictures so I could have copy, I would make a scrapbook for myself and copy it off for all my siblings as Christmas presents and then I would return the photos to her in a brand new album. Her albums are the old magnetic kind that have lost their "magnetisim" somewhere through the years and no longer hold the photos. When we look through the album photos slid out onto the floor and everywhere.
Now the deal is that once I return the album and prove that I am not going to "steal" her pictures, she will then send me the next album in the pile. Pretty good deal if you ask me. Works well for both of us.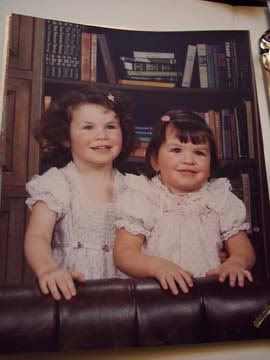 This last picture is of my little sister and I shortly after we were adopted. I am a little in shock still from seeing this picture which I never knew existed. I think I will copy it in that large size and frame it for my wall. What a precious picture. Now i have my work cut out for me getting these scanned and into a scrapbook for the family. Hopefully I can get it done by Christams!