I remember my Grandmother Anna, tall and graceful. She used to wear her hair parted down the middle with each side braided and then wrapped back and forth across the top of her head. As a little girl I stood and watched her braid her hair in this manner and I loved it. I now, occasionally, braid my hair in the same way purely for nostalgic reasons. When I think of "vintage", I think of my Grandmother's era. My grandmother passed away when I was but 8 or 9 years old. How I wish I could have known this lady more. I think we would have been wonderful friends. (we do share the same name, you know) I can just picture us, sitting in her lovely parlour and crocheting dainty doilies together. Or stitching table runners or hand piecing a Grandmother's Flower Garden quilt together. (I must remember to snap a picture of that quilt she made which now hangs in my mother's living room. Gorgeous quilt)
When I arrived here to my parents house, my mother informed me that I could browse through my Grandma Anna's old sewing cabinet and I could have anything in there that my little heart desired. Ahhhhh!!! Can you imagine? Heaven for such a girl as I. I was also informed that whenever I can get that cabinet to my house, its mine. Wooo Hooo!!! How do you ship a sewing cabinet?
Anyways, I want to share with you the few treasures I picked to fit into my already overly crowded suitcase. (the rest will have to wait for my next trip out) I want you all to know that what you are about to view are truly vintage items. My grandmother quit crocheting and such when my father was a small boy. He recalls her doing it, but says she quit when he was quite young yet. So…that would make everything you are about to view dated to the mid-40's or earlier. One item even has the postmark of 1941. Most everything doesn't even have a postmark yet so I am guessing they were from the 30's.
Above you see a box containing old hankies with holes along the edges to crochet around. One of the hankies has a bit of green thread crocheted around the edge. I am thinking I may do some embroidery work on the hankie to finish it off. Also there are two spools of little thread. Totally vintage. One says it is Coats and Clark size 70 tatting thread. Lovely!!!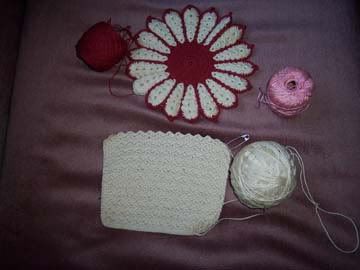 These are potholders Grandma Anna started and didn't finish. I aim to finish them when I get home. I will hang them in my kitchen next to these next ones that she completed.
Aren't they absolutely beautiful? I love them. I want to see if I can mimic her stitches and make up some more in other colors.
Now this is truly a treasure. What a gorgeous treasure to find stuffed into a little corner of the sewing cabinet. An unfinished doily. I can complete the row that she last worked on simply by following her already finished work. I am going to try to find the pattern for this doily in her things, but I don't know if I will be able to. It looks to me like the sides will have a pineapple on them as well. I think I may be able to come up with something to finish it. The thread is so old and looks to be about size 50. What a treasure.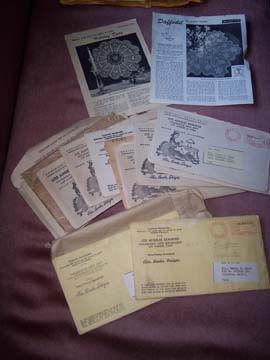 Tucked in amongst everything else, I found this stack of mail order patterns. Quite a few too. These are the envelopes they came in with the postmarks on them. The postage for these are 1 cents. Gosh...that was a long time ago!!! Anyways, in each of these envelopes there are transfers for embroidery or crochet patterns...and sometimes BOTH! Look at this!!!
You can see (or maybe not since its so small) that Grandma Anna crocheted a little basket. The embroidery would be done on the edge of a pillowcase or table runner/scarf and the crocheted basket would be attached to the bottom. It would appear as though the embroidered flowers were coming out of the basket. So, those of you who know me, know that I MUST finish this. Ohhhh what a treasure!
In some of these envelopes, Grandma Anna included the newspaper clipping that she ordered the pattern from. How neat is that? Also in the sewing cabinet are tons of other clippings to order patterns. I wonder if she wanted to order all of them. I wish I could order them nowadays.
I am so blessed to receive such a neat treasure. Every time I embroider or crochet now, I will think of my Grandmother Anna. And I aim to finish these things she started so I can have memories of her throughout my house. What a blessing to have such a heritage.