Just wanted to stop in and give an update or two for you all. We have been very busy around here lately. This is a good thing. It helps to pass the time until James gets home. (which is soon. Very soon. Not soon enough, but still...its soon) Anyways, I mentioned in my last post that I hoped to start on a Christening dress on Friday. Well, lo and behold, I stuck to my goal. I did it. I started a newborn Christening dress. I have the bodice of my
Angel Traditions
completed and am now working on 32" of repeating the same row over and over and over and over. I don't have a picture to show you of what I started. I do hope to have one on Friday for you after I work more on those blasted repeats.
So, Friday morning we had a "trike rally" with our MOPS group. Chloe adored it although she didn't actually
ride
her trike. She just sat on it and watched the other kids ride in circles around her. I knew she was having a good time because she wore a grin from ear to ear and giggled quite a bit at the antics of the other children.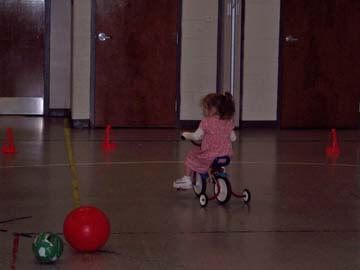 Now some of you may already know this and some may not, but Friday James and I celebrated our tenth wedding anniversary. Yes, that's right. Ten years ago, I married the most wonderful man in the entire world. And do you know what he did for me while miles away fighting in this war? He called me bright and early Friday morning to wish me a Happy Anniversary. Then, Friday afternoon, I opened my front door to check the mail and found a box of flowers on my doorstep. I told Chloe, "Ohhh! Look! Flowers! I sure hope they are from Daddy." Chloe started dancing around the living room sayind, "flowers from Daddy! flowers from Daddy for ME!"
I didn't get just
any
flowers. No. I received
THREE DOZEN RED ROSES
!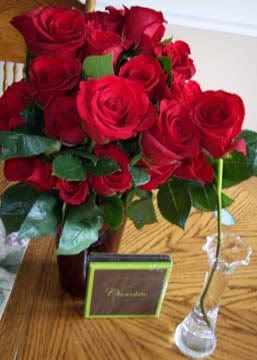 And
a vase AND a box of chocolates. (which I shared with my girlfriend Karen who came and sat with me Friday night so I wouldn't end up eating a tub of ice cream -and a box of chocolates- all by myself and gaining back the 15 pounds I have lost since James left. What a dear friend to sit and share chocolate with me.) So, one of the roses wouldn't fit in the vase and I put it in a glass vase by itself. Chloe has assured me that this rose was intended for her. "This mine. My Daddy give to me" she informs me every time we sit down to the table to eat. She then points to the ones in the living room and says (very matter-of-factly) "those yours. Daddy give to you".
Okay. This kid literally cracks me up. Every day she does something that has me in stitches. The other day she did something good so I told her to give me a "high five" and I held up my hand. (its a family thing...we love giving high fives around here) Chloe held up two fingers and slapped my palm stating as seriously as a three year old can state, "high two Mama".
And if that isn't enough...I walked in on her Sunday afternoon during her nap to give her an extra kiss (you know those kisses you steal while your cherubs are sleeping and peaceful and quiet and still and oh so cute? I wanted one of those kisses.) and I saw
something
on her. My vision not being the greatest I couldn't make out what it was. As I walked closer I saw that she had a suncatcher on her forehead and about 20 of them in her bed surrounding her little body. (we had painted them the day or two before)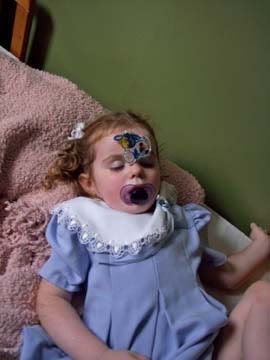 I couldn't kiss her. I had to run downstairs and grab the camera because I knew no one would believe me if I said that my daughter slept with a suncatcher on her forehead. (and then I kissed her...after I secured the
proof
photograph
Saturday we found out that we can chat with James on gmail. WOO HOO! You have no idea how cool this is. (and how upset I am that they didn't allow us to for the past three and a half months) He can even send a picture or a video of himself sitting at his computer over the chat. The first video was to Chloe where James said, "Hello Chloe. How are you?" Our media player on my laptop automatically loops the video so it played over and over about 50 times. (it was only about 5 seconds long) Chloe sat in front of the laptop watching her Daddy talk to her. She then grabbed her Barbies to show her daddy. I took a picture of it to send to him.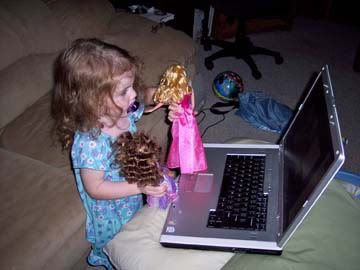 Once she got over initial "shock" of hearing Daddy's voice, all goofiness broke loose. Chloe loves to pose. (especially for her Daddy) So she asked me to take a picture of her jumping from the couch to the air mattress.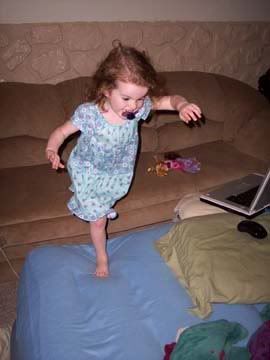 I just have to say how wonderful it is to chat with James on the computer. I know it seems silly when we talk on the phone every other day. But hey! Its just another way to keep in touch, right? I sure do miss that guy. So, what do I do with myself while I anxiously wait for him to return home to me? I crochet! Today I finished a new design. I am calling it Morning Glory.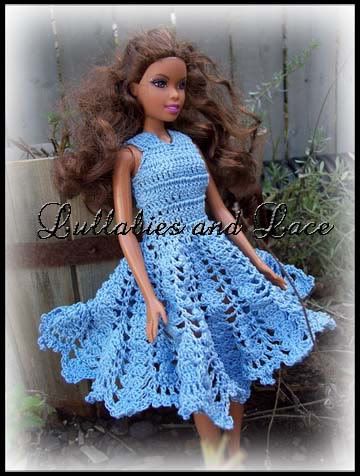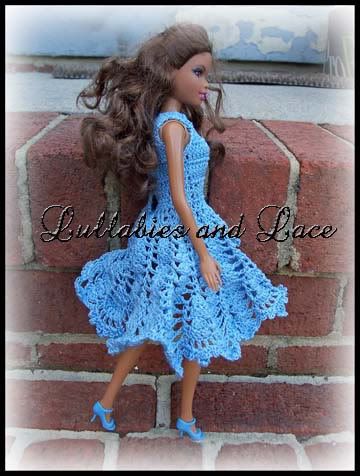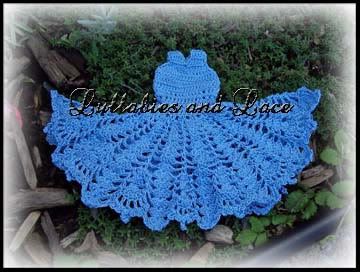 It was a fun little design. I enjoyed it. So much so that I think I will design more fashion doll clothes. They are so much quicker than three year old toddler dresses in thread. (and you all know me...I love my thread)
And now I must go to bed. I leave you with pictures of Chloe wearing my shoes and playing dress-up. Have a wonderful evening everyone. Go kiss a cherub face tonight! (I know I'm gonna just as soon as I hit "publish post")