So, aside from Chloe's seizure, our Ohio trip to visit Melanie went beauitfully. We had a lovely time playing and eating and sightseeing. Yes, we even got to sightsee. Here are Chloe and Sweet E (who happens to be one week younger than Chloe...them girls were two peas in a pod together) sitting in the car the morning we drove to Amish Country.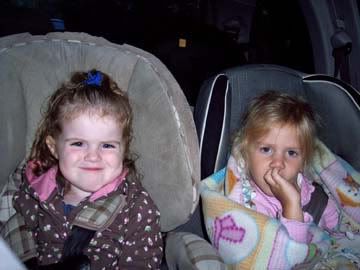 Melanie took me to some of her favorite thrift stores and boy...let me tell you...I found out why. The prices were so cheap there. I paid no more than $2 for anything. (except for a heavy winter coat for Chloe which I paid $5 for) I found dress-up clothes for her dress-up chest. (which is her birthday gift next year) We had lunch at a yummy kitchen where I found a new love for Amish Peanut Butter Spread. Oh yes. If you have never had this, you are missing out on the most wonderful, gooey, corn syrupy, marshmallowy peanut butter on the planet. And I got the recipe.
Driving through Ohio I came to the realization that I could SOOOOO live there. I don't know what I was expecting, maybe something like Kansas, but Ohio is definately NOT flat like Kansas. It is gorgeous.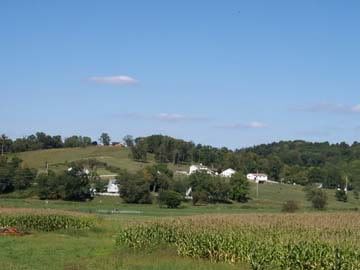 And I found my farm. Notice the amish buggies in front? I wonder if they will sell this farm to me. Isn't it gorgeous?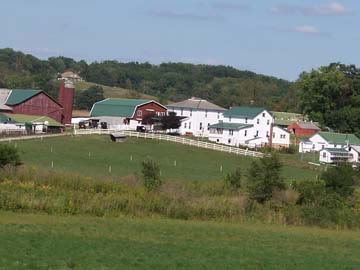 Ahhhh.....*sigh*...I could live on that farm and be perfectly content.
The kids had school while we were visiting so Chloe and I got to have school right along with them. They learned about the sun and the moon and how they rotated around the earth.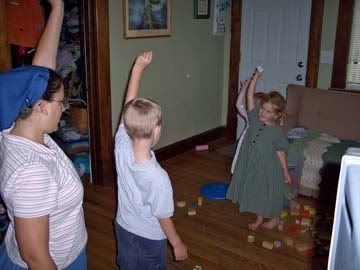 They also made rockets another day. (to help them get to the moon)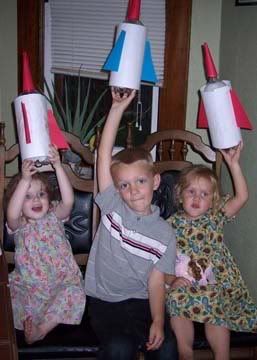 All of the kids played so well together. I was quite amazed at how well they hit it off. ALL of them.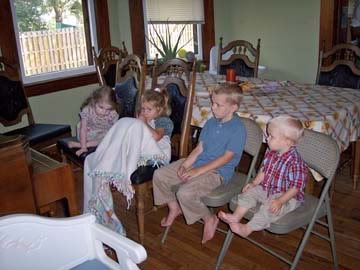 The kids all lined up to watch a movie. (Signing with Alex and Leah, I believe is what they were watching above)
And what kid wouldn't love a big shopvac box to play in???
Thursday was James birthday. Since he was gone (his deployment to Iraq) Melanie and Brian took Chloe and I out to eat at a buffet. We had a lovely time. Afterwards they took us to the Children's Garden that the local highschoolers made. I was impressed. I had seen this place before on Melanie's Blog but didn't realize just how gorgeous it was in person.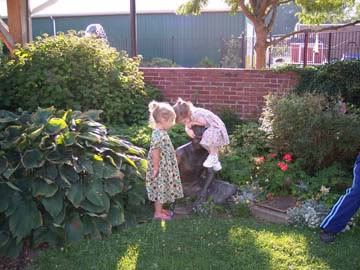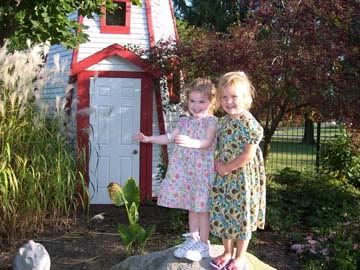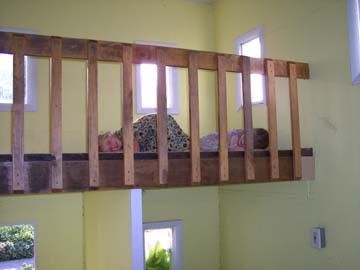 The girls took a nap in the "dollhouse". It was so cute to watch them play together. They kept running downstairs for "breakfast" and then back upstairs for night-night time.
We came to home a homemade chocolate cake with Ganache icing. Yum! This stuff is delicious. (I made it from one of Melanie's recipes) Since it was James birthday, Melanie wrote Happy Birthday James on the cake and we had the children each blow out a candle in James honor.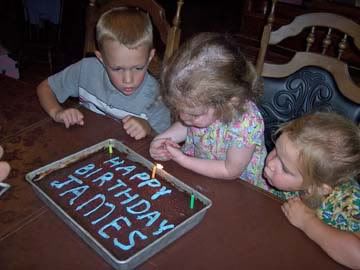 We had a lovely week and I was sad to have to leave. Chloe misses her new friends and keeps asking when they are coming to visit. So, Melanie????