A couple of months ago (before I left on my summer trip) I pulled out a new WIP to work on from my list. I, again, used www.random.org to choose my next project and it chose my knitted afghan for me. Great! Just when I was ready to cross stitch or something easy like that it chose something I had barely begun to work on at all. Oh well. It will be good to get this done.
First I will show you the progress I have so far.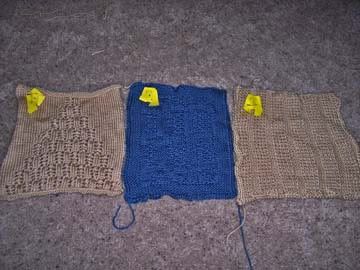 Three measly little squares done. Feeling like a bit of rest yesterday evening, I pulled out this WIP even though its not WIP Wednesday and I worked on a new square. Here is what I accomplished last night.
Hopefully I can work on it a bit on Wednesday and get most, if not all, of this square done. I am off now to work on editing the
Lady Guinevere sweater pattern
which is in testing right now
(still)
and sip a cup of delicious Watermelon/Kiwi tea. The
Winter Wonderland Ensemble
is almost completely out of testing and once it is I will have some delightful news regarding this ensemble that I am most anxious to share with you.
Gretel's Petals
is doing great in testing and I am almost done with designing something new. Well, two new things actually. My goal is to get them finished and into testing this week. (since I didn't make the goal of getting them done
two
weeks ago) Have a great afternoon everyone.