Last fall I bought some gorgeous wool fabric with a velvet floral print in dark brown all over it with the intention to make a winter coat for Chloe. Today I finally got around to sewing that coat.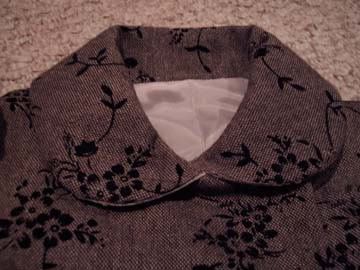 I lined it with pink lining. (could a little girl's coat be lined with any other color???) I used
Butterick 4650
which now says its out of print. Very cute coat. I decided NOT to add the faux fur collar though. I made just a simple collar from the same fabric as the dress.
I still have to add the buttonholes and the buttons. There just wasn't enough time today to finish everything. Tomorrow is Boutique day and I am hoping to start a new Christening dress. I am thinking either
Angel Traditions
or
Angel Kisses
. Have a great evening everyone.