Chloe hosted her first tea party today. This summer I have spent some time thinking about my bit of loneliness and the lack of kids Chloe's age around us. I prayed to the Lord regarding the issue and after a few moments He said, "Anna? Get Creative!" Oh! Hmmmm. Wonder why I didn't think of that. (God
IS
more brilliant than I)
So how does Anna get creative? She goes all out, that's how. My mother can attest to this fact - I do nothing simply. I take a good idea, add multiple steps to that idea, make it extremely difficult and time consuming and then it is ready for me to tackle. (guess that could be why we haven't solved this issue sooner) So, how to get kids Chloe's age to be around Chloe? Host a tea party.
I spent a couple of hours last night preparing for her three friends to come for tea. First, I bought some little party favors at the dollar store. I paid $4 for everything you see below. (including what you can't see in the bags)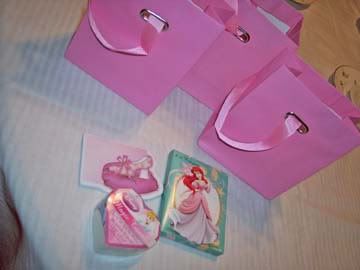 I found a box of pink and purple beads at Tuesday Morning for $7.99 so I bought it for the girls to make necklaces. The beads came in many different shapes and hues. Some were opaque, clearish, bright, pastel and sparkly. I gave each girl a small bowl of beads and a couple pieces of ribbon to make the necklaces. I used some of my fancy "tea" china.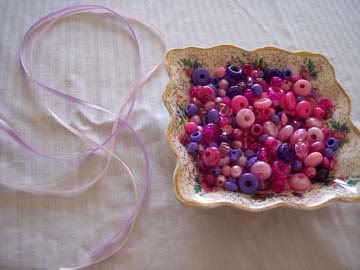 For the centerpiece, I cut some roses from my garden and placed them all together in a bowl. The bowl I set on a cake stand and sprinkled extra beads around the cake stand. I served Pink Lemonade in a white teapot.
I have been collecting hats for Chloe's dress up chest (and next years dress up birthday party) and so I placed a hat on each "peg" on the back of the chairs around the table. Each girl was to pick a hat to wear during the party.(only Chloe did)
Chloe helped me prepare this morning for the party. She measured and mixed up the dough for the scones.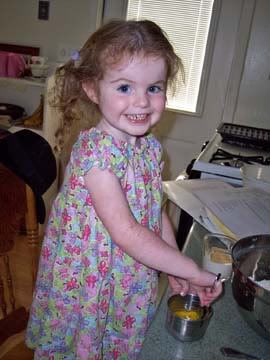 She also dusted off the crayon marks from my coffee table that she had colored on the day before.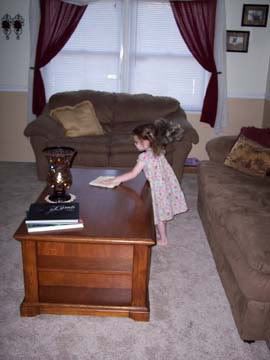 The girls enjoyed making the necklaces and I even have enough beads left over for many more projects. Another project we did was paper fans. I cut out fan shapes from some scrapbook paper and they glued the two pieces together with a popsicle stick in between.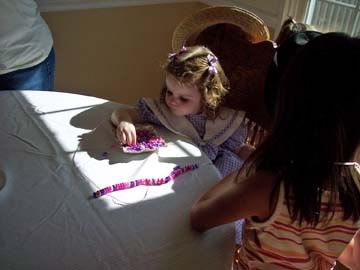 My
Tea Time at the Inn
tea book includes a Tea for Tots tea and I got the idea of this whipping cream from there. I bought three different kind of "candy" and poured them into a tea cup with one of my "teaspoons". The girls then each received their very own bowl of whipped cream that they could add their "mix-in" to. They could then dip thier cookies into this cream mixture to their hearts content.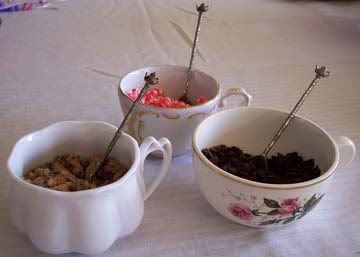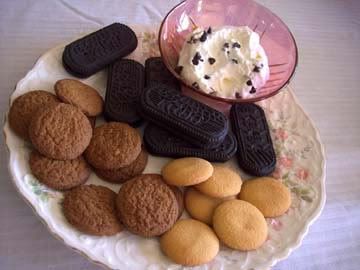 For the candies I used mini chocolate chips, crushed heath bar (the kind in the package by the chocolate chips) and also some crushed strawberry and creme candy. (I crushed them myself) For the cookies we had Gingersnaps, Nilla Wafers and Keebler Dipping Delights. (all store bought cookies...that was my way of "keeping it simple")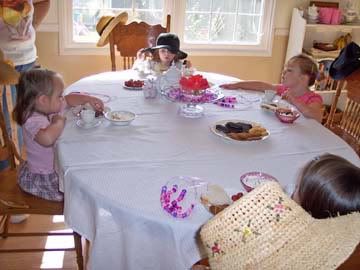 The party was a HUGE success and I think we will do something like this once a month. Chloe enjoyed having friends over and I enjoyed preparing something special for them. Why wait for a birthday to have a party, right? We can party anytime. We're girls.