I am a bucket. Better yet...I am a sponge inside the bucket. Huh? your saying to yourself. Yes. I know. This sounds very confusing and, to be quite honest,
weird
. Especially for those who took the time to read the title.
So, okay. I will explain. I attended my very first MOPS meeting last night. No, we didn't clean a bathroom, a house or even the church building we were in. MOPS stands for Mothers Of Preschoolers. And I went to the first meeting of the year for my first time. Let me tell you something. If you have a child between the age of birth and 5 and you know of a MOPS group that meets in your area, you simply MUST join. I had no idea how wonderful this group really is for young mothers of young children.
We will meet together once a month in the evening and right off the bat they serve us food. They give us about 30-45 minutes to eat that food and talk. That's it. Just eat and talk. Do you know how refreshing this is for me? I don't have to rush through a meal, or a snack for that matter. I get to talk with other adults who, like me, have kids who throw tantrums on the floor of aisles 5-14 of Safeway because they were forbidden to climb the pork and beans pyramid in aisle 2. I AM NOT ALONE!!! I learned that last night. *grin*
One Saturday a month, they meet for a nice breakfast at a local restaurant. This is optional but it just gives everyone a chance to get out and talk (again) with other mothers and connect and make friends. I sooo need this.
The group also schedules playdates at least once a month. I am thrilled. Chloe will have a plethora of friends to play with
all at one time
. More friends than she will know what to do with. The first playdate is a Trike Rally. How cool is that??? (I will, of course, be taking loads of pictures for you all...and also taking Chloe to our church parking lot each day to practice)
Do you now get the "mops and buckets" thing? Although I should have said "mops and sponges" but that just doesn't have the same ring to it. I am the sponge in the bottom of the bucket just sitting here soaking in all this goodness and richness that comes from MOPS. I almost cried on my drive home last night. That's how badly I have been needing support like this.
I also wanted to show you some pictures of Chloe at Awanas. We had our second Awanas adventure tonight and since it was parent's night I thought I would snap a few pictures of Chloe.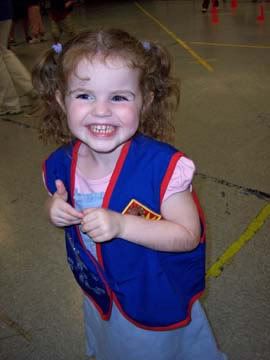 This is a very proud Chloe who had just received her cubbies vest.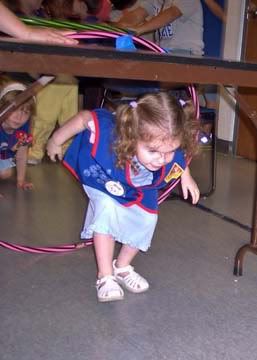 Going through the obstacle course at game time.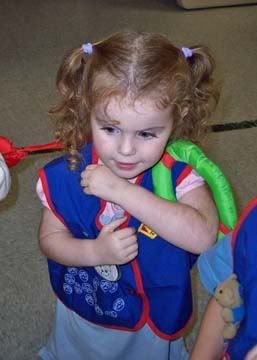 Holding her ring along the rope ring. (what they use to transport the kids from one room to the next in a single file line)
Eating her popcorn during snack time.
Chloe still has a little bit of learning to do. She doesn't quite get the concept of tons of kids crowded into one little area, nor does she grasp the fact that when a leader says to do something, that includes her. She appears to assume she is just a bystander who needs to watch every single move of everyone else. They say sit, she stands. They say move to this side of the room, she says put...standing. I think she may do better without my presence there. We will see how she does next week.
So thats that. Mops and Buckets and Cubbies. Have a wonderful evening everyone.