Okay. Let's talk business.
Etiquette.
Business etiquette. I've not had the best business etiquette in the past but that's all about to change. James and I had a discussion the other day regarding my business and the time and effort I put into it. He commented that I treat it more like a hobby than a proper business. Hmmm...that comment alone spurred those rusty wheels in my brain into motion. We decided that I should be treating this more like a part-time job. I need to spend 4 hours a day on my business. 20 hours a week. That way, things will get done and still remain balanced against my personal life. (which includes feeding the family, scrubbing the toilets and having coffee with friends) I am NOT giving up!!! Not yet, at least.
This idea of investing time into the business has gotten me quite excited. Very excited indeed. But, that is only the beginning. I checked a book out from the library. "Turn Your Passion into Profit".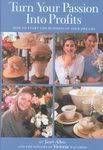 I've not read the whole book yet, but what I have read has revolutionized the way I think about my business now. A key idea for me is "Market Research". I need to start researching the market and finding out exactly where I can take this business. Contacting places for publishing. Finding out how much I can sell my designs for to Boutiques and whether that is a viable business option for me. The other key idea for me was "becoming an expert in my field". Yup. This book suggests that I become an expert in designing. I need to know all that there is to know about designing crochet patterns, fashion and all that jazz. If I don't know it, then I need to apply myself to gaining that knowledge. I also need to make the best patterns possible on the market today. I've got to incorporate items into my patterns to make them stand out from and far exceed the standards of other patterns available.
I found another book at Barnes and Noble that will also help me in the "business" portion of my business. Fincances, writing a business plan and the like.
Another book I purhcased (because I purchased the above two books) will help me more in the category of "market reasearch" and "knowledge". I figured that it would behove me to actually crochet up some other designs to see how things are made. I have never made a crocheted garment for myself before until my
Lady Guinevere Sweater
which I struggled to get through testing. My limited knowledge of garment construction really hindered me with that design. To help me gain some much needed knowledge, I bought a crochet pattern book. "Positively Crochet"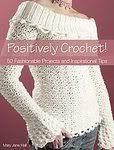 I want to learn things like how sleeves are set in, how necklines are formed and how bust measurements are created. I can hardly wait to receive the above books in the mail. Ohhhh...its going to be a busy year in 2009.
Anyways, for a special treat tonight, I bought a fourth book for myself. "Inspired to Knit".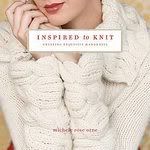 So, its a knitting book, but hey! I can still learn from it, right? The designs in this book are so exquisite and intricate. I loved it at first sight. I stood in JoAnn's contemplating a different knit book but as soon as I saw the designs in this book I knew I had to have it. The other book was filled with simple sweater designs that I could defintely knit. Most definately. Now this book contains patterns I can't knit, but I can sure glean ideas and inspiration from it. Well, I was reading through the book tonight and I found the most amazing thing inside. She actually tells you how to design a knit garment. (which transposes to crochet, right?) She even explains how to draw a schematic...something I have been wanting to learn for a few months now. I am so excited to try this on my next design. Oh boy....am I excited! I have to warn you...be prepared to be bombarded by some awesome designs in the near future. The ideas are really flying through my head now. I see inspiration everywhere! I can't help it. I don't think I've been this excited about my business since I started it.
Anyways, I am off to dream about some new design elements while I sleep. Tomorrow I have some sewing to do, but I hope to have time to show you a few things I've made recently. Have an exciting evening everyone!