We have it. Our town (or city, rather) has the coolest place on the planet for a toddler. Its called Storyville. I didn't know about it until a couple of months ago when the librarian at our local library informed me of it. Its across town (which is quite a drive) but its FREE!!! Can you believe that there is actually a place that is free any more? So what is Storyville you ask? Let me tell you.
Its this neat "village" for children birth through 5 years of age to visit with their parents or caregivers. (we must be in attendance with our child at all times inside Storyville) They have a grocery store where you can shop for food and then purchase it at a cash register. They have a post office where you can sort the mail, or you can even put the mail in a pouch and deliver it to the different places around Storyville. (which you then put back later) They have a "bay" area complete with lighthouse and fishing (on the floor) and a log to crawl through. They have a "house" with different rooms including a kitchen, living room and a bedroom upstairs. The bedroom has a doll house, dress up chest and mirror to see yourself in. They even have a "garden" in the backyard with a grill to cook meat and such on. The people who run this place have paid so much attention to every little detail. It really is amazing. And its FREE!!! Here are some pictures of Chloe today.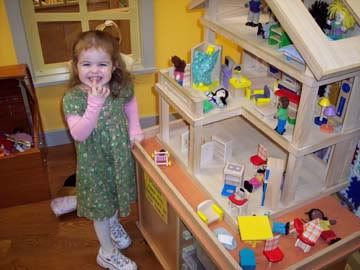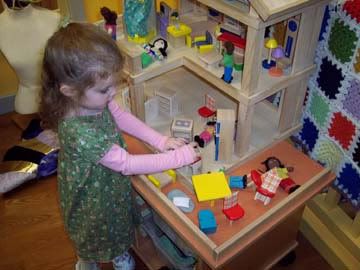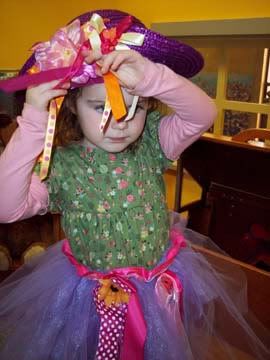 We had a ball while we were there. I went with another lady from our church whose son is the same age as Chloe. We thought they would enjoy playing together since they adore each other at church. Nope. They spent the entire morning running from area to area and didn't even notice each other. We figured they were in such a state of wonderment by it all that they didn't have time to think. Chloe loved it and I am positive we will be going back for more. How can I not when its free!!!
I have an update for you on the Christening Dress. I am about 11 inches into the thing and I only have 21 more inches to go.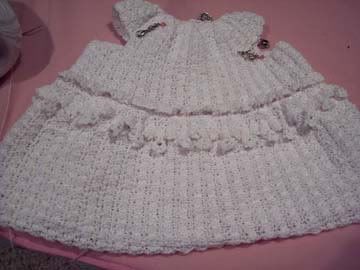 I am hoping that I can get it done in two weeks. I figure if I put in 6 hours next Friday and 6 the following, I can get it done. Hooray! Anyways, I am off the bed now. Its been a busy day (we also had Awanas tonight) and then we have a MOPS breakfast to go to bright and early in the morning. Have a great evening everyone!