Its about time, right? No really. It took me over 6 months to finally get some new patterns up on my website. I don't know what my problem is this year. I guess its all that sewing and knitting and eating and sleeping that just sort of took over this year. Not to fear, I am back in business and have been designing more things again. Hopefully I can come out with more new patterns very soon.
Anyways, I wanted to let you all know that my masterpiece, the
Winter Wonderland Ensemble
is finally ready for sale. (just in time for winter too)
The BIG news regarding this ensemble is that the picture you see above you is in a magazine!!! That's right. My baby girl's picture can be seen in stores near you all over the country! I bought my first ad this year. Go check out the
Interweave Crochet Fall issue
to see my ad in there. Wooo Hooo. Now we wait to see if it will do any good.
I also have
Lady Guinevere
ready for sale as well. This sweater was a doozy through testing. Easy to design but difficult to get through testing. As you all may remember, I had a funk when I learned about grading and sizing and such and it just so happened that this pattern was in the middle of testing. I had to revamp portions of the sweater to comply with my new found knowledge of grading and sizing. So...hopefully the pattern is perfect now.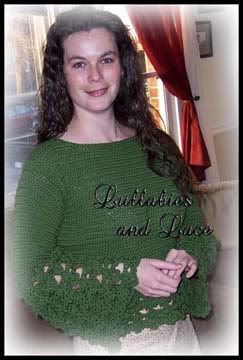 And my new freebie is this delightful ensemble for Fashion Dolls. (it fits the "new" Barbie dolls)
Sweet in Pink
.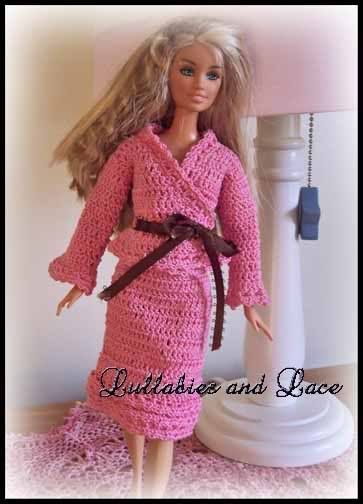 Golly but I have so much work to do on my website...its not even funny. I am getting more and more behind. At least I finally have some new designs up though. That's the main thing. I wish I could just sit for 6-8 hours a day and work on new designs and my website. Alas, life happens and I am unable to do as I please. Floors need vacumned, dinner needs cooked, kid needs rescued from the ceiling and so the story goes. Anyways, I am off now to work on the
Angel Traditions Christening dress
I started last Friday. I should have it done in a few weeks if you know of anyone who wants one.
*wink*
If you let me know before too long, I can even end it at the ankle for a "baptism dress" instead. I am making the newborn size.