Boy, its been a long time since I have updated you all on our happenings. So long so that I have almost forgotten how to do this.
Almost.
Its slowly coming back to me.
So, if I recall correctly I mentioned in my last post that I made a necklace to wear when we picked James up from the airport last week. I also may have mentioned that I would show said necklace to you. Well, it has only taken me over a week and I wish I could take better pictures while hurrying around, but here it is...ready or not.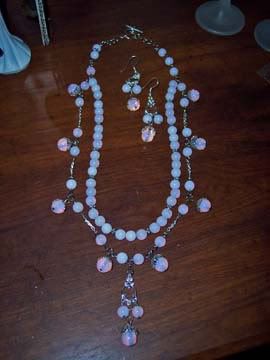 James really liked it. I don't think he really noticed it til the next day, but he says he liked it.
I have so much to tell you all about the past week, but I shall save it for another post tomorrow. I must be off now to do some work. (I am crocheting a new design, if you wanna know) That is one of the things I have to talk about...my business adventures. But alas, not today. Tomorrow. I shall speak of it tomorrow. Good day to you all. Have fun doing something fun!