After spending last week either in bed or on the couch with some sort of bug (that may or may not be the flu), I needed to accomplish something this past Saturday. Something,
anything
. It didn't matter what it was, but it had to be something cute. Something small. Something for Chloe. Maybe something for Christmas.
Ahhhh! That was it!
A Christmas present for Chloe!
I knew what it was I had to make. Doll clothes. I perused my doll clothes patterns and found the perfect one. I sifted through my scrap bin and found the perfect fabric. (leftover from a dress I have yet to finish. Remember the dress I was to wear to the airport to pick James up? It rests on my sewing room chair, waiting for the mood to strike for me to finish it) And wa-lah! A cute little doll coat!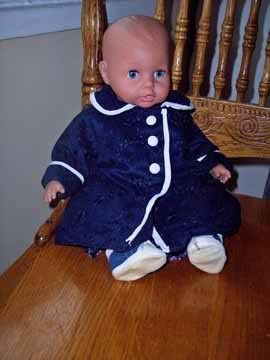 Now, you who know me may also know that I am what you would call the "opposite of a perfectionist". My motto is "just get it done" and it seems to have worked well for me in the past. Well, with the thinking I've been doing regarding my business and all lately I have come to the conclusion that it might behove me to have a touch more perfectionism about me. I could stand for a smidgen of it. Not too much, mind you. Let's not get carried away here. But just a tidbit couldn't hurt. So, while making this little coat, do you wanna know what I did? (something I would never have done before because I am lazy that way) I actually switched thread colors when it came to attaching the white binding. Can you believe I actually did that? Or can you believe that in the past I would NOT have done that? Just picture this coat with white binding and blue thread. (Hmmm...
LAZY!!!!)
Anyways, it took twice the effort on my part because I was constantly changing thread colors from white to navy blue, but the end result was definately worth that extra effort. (any my crummy sewing job is a whole heck of a lot less noticable when the thread color matches the fabric)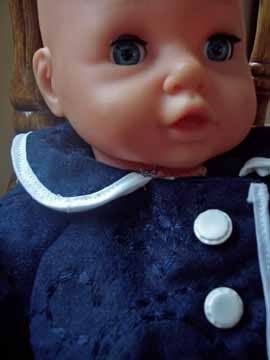 So, now I am off to a bedroom switcheroo and makeover. We are swapping bedrooms. Chloe will be taking over my current sewing/craft room. My sewing/craft room will be taking over Chloe's bedroom along with our current queen size bed. It will be our new spare/sewing/craft room. Later this week, we have a very special delivery coming for James and my own bedroom but more about that another time. I have alot of work to do. And I will let you all guess...just GUESS...what color Chloe picked for her new bedroom walls. I want to hear your guesses in your comments. The correct guesses will be entered into a drawing for a special prize. (which I will show you in my next post) Have a wonderful day everyone!!