Every little girl simply MUST dress up as a princess at least once in her lifetime, right? Even better when its her choice to do so, as if there were no other choice in the world. Dorothy from Wizard of Oz? Nope. Bride? Nope. Nurse? Nope. Princess it must be.
So...then comes the choice of color. Is there any such thing as a princess dress that's not pink? Not in this household. Chloe picked the perfect color for her princess dress all by herself. Here she is in all her majestic splendor.
I used
Butterick 4320
for this dress. (notice that the dress in the picture is very similar to the dress Chloe has on...weird, eh?) The pink fabric has some sort of glitter all over it. (we were glamming it up) And the sheer fabric actually has little teeny tiny sliver gems all over it. It wasn't that fun to sew with (or iron) but the end results were definately worth it. And I got a new iron out of the gig. (because pink glitter somehow doesn't go very well with blue military uniforms which is what happened late Sunday night. I didn't know the glitter would come off the fabric onto the iron. Honest, I didn't) I did have to cut off about 5" from the bottom of the dress and hem it up another 4" so it would come off the floor some. But that will give Chloe a couple more years of play with it. Daddy bought her that fantastic crown and wand to go with her ensemble. (because every princess needs a crown...or so Chloe informed us.)
So, we went to New York for the weekend to visit James extended family so Chloe got to go trick or treating with her cousins. (which was extremely exciting for her)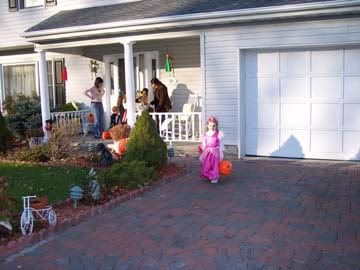 Okay. You gotta see the view of the apartment we stayed in while in Yonkers. The apartment belongs to our uncle. (well...the best friend of James father, so not really related but closer than most of his father's real relatives)
Stunning. Simply stunning. These are the Palisades along the Hudson River and I must say that my favorite time of year to see them is most definately FALL!!! (oh! And the tugboat pushing the barge looks pretty cool too)
On the way to the boat club Sunday we saw a racoon along the train tracks. (keep in mind we are in the city...NYC) The trains didn't even faze the guy, blowing right by him about 5 yds away.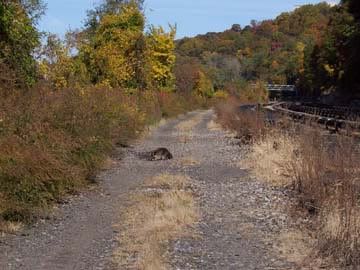 So, we had a lovely weekend and Chloe now walks around, picking up the edge of her skirt and bending slightly while saying "yes, your highness" whenever I tell her to do something. Ahhh...gotta love that, right? Anyways, I am off to put Chloe down for a nap and then update my website. Behold, some free patterns are on the horizon. (and I've not even mentioned them on my blog before today so they are a total surprise. Have a gorgeous day everyone!