Well, you all must not have much variety in your life or something because you all guessed the SAME color. Come on now...couldn't anyone guess ORANGE? Or BUTTERCUP or CYAN? or something a little more interesting than PINK??? I suppose you all wanted to win or something. Well, let me show you what color Chloe picked.
So, that means everyone who guessed gets put into my drawing for some lavender ribbon hair clippies! And using Random.org, the winner is....
LADYSNOW!!!!
Congratulations. I already have your address so I will get your prize in the mail for you. Thank you everyonoe for playing my little game. (maybe I will have another one soon...I love giving away prizes. Its so much fun)
Anyways, I thought I would show you some pictures of Chloe helping me paint the new spare room. (her old bedroom) We had to prime the green wall because the next paint color is lighter. (I will not show you until the room is complete though. I just love those before and after pictures)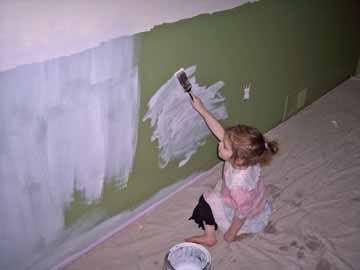 Yesterday I woke up to a chaotic house. Those of you who know me also know that one thing I cannot abide is chaos. My bathroom has now become the storage place for all the little things that couldn't fit into the center of the spare room while I paint the walls. The hallway has become the storage place for the smaller furniture items and old bedding from our bedroom while we set up our new bed. The old bed currently hides my entire closet so I cannot get to my clothes...which means all changes of clothes are covering the floor. (and yes...I am wearing the same painting clothes I have worn all week...in other words, I STINK!)
Anyways, you get the point. Chaos! And I do not function well in chaos. So, I woke up yesterday morning with a list of about 10 things I HAD to do along with about 20 things I needed to do and about 100 things I
could
be doing. That in combination with the chaos was enough to send me into cardiac arrest (or the mental institution.) So, what do I do?
I pulled my desk next to the wall (which I had just painted the day before and needed to add the second coat of pain) and I got out some pink scrap fabric and I made some doll clothes for a little vintage doll my mother bought for Chloe last year at a yard sale.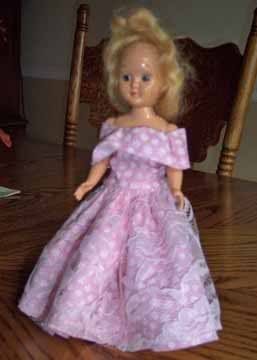 I didn't use a pattern for these. I guess you could say I
designed
them. *big, cheesy smile* I learned alot while making these little dresses though. Like all the wrong ways to go about sewing doll clothes. They don't look the greatest but Chloe still thinks they are worthy of a princess. (they
are
pink, after all.) One thing I have decided is that I will be sewing teeny doll clothes by hand from now on. Its too difficult to attempt those itsy bitsy seams on a large sewing machine.
And if that weren't enough...while I was supposed to be getting ready to attend a mandatory Thanksgiving Party (lunch) for James work, I made a hair bow for Chloe instead. (to match her dress she was wearing to the "party", of course)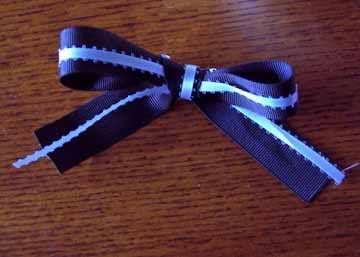 I LOVE HOT GLUE GUNS! (There! I had to get that out.)
Okay. I am off now to add a second coat of paint to the spare room, prime the master bedroom wall and head to Home Depot for more paint. Hopefully, sometime today, I will find time to actually
work
. Gotta finish typing up a new pattern that is already in testing. Why or why was I sick last week? WHY????
Anyways, have a wonderful day all day long! Smile to your kids today. (and just watch their faces light up when you do.)