Lately I've been contemplating this notion that I could conceivably design my own doll clothes
without a pattern
. Huh? What???? Yup. That's exactly what I thought the minute the notion popped into my head. All week long I have been sewing doll clothes and this notion won't get out. So, today, I let it take flight.
Back story. Do you all remember that
vintage doll
my mother gave me a little over a year ago? The one she recieved when she was 6? (we had orginally thought it was 5 but after looking up the doll on the internet we found out the doll was made in 1951 which means my mother was 6...not 5) I will be giving this doll to Chloe as a Christmas gift either this next year or the year after. (I am debating if almost four or almost five would be better...for the dolly's sake)
So, dolly doesn't have any shoes and I felt she couldn't go a day longer with cold, bare feet. I took out a pair of soft cloth shoes that belonged to Chloe when she was an infant and used them as my model.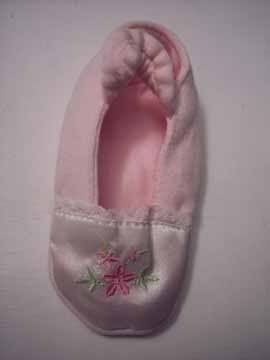 I traced dolly's foot on a piece of paper for my base pattern, leaving room for a 1/4" seam allowance.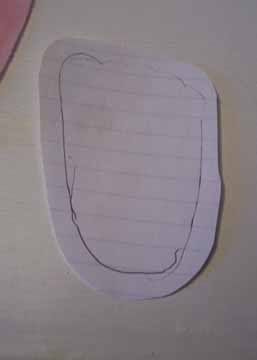 I then cut a rectangle strip for the sides of the slipper and also a curved piece for the top (over the toes). Here was my first attempt.
After trying it on dolly I noticed it a bit tight getting it on dolly's foot and also the sides weren't quite high enough. So, attempt two. I widened everything except the base.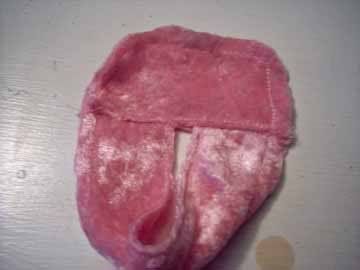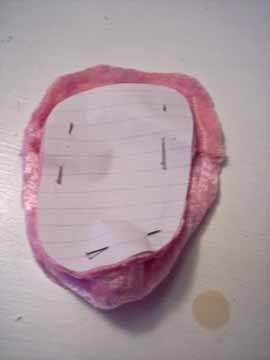 That didn't work for two reasons. One, the sides came to close together on the top part. (where the toes go) I didn't like it. Two, it was too big around to fit with the base and I didn't want to increase the size of the base because it was a perfect fit on the bottom of the foot. So, out came the thinking cap. How do I make the sides taller without making it too wide for the base? And how do I make the sides taller without having to overlap them on the toe portion? Hmmm...have it gradually increase towards the heel of the slipper.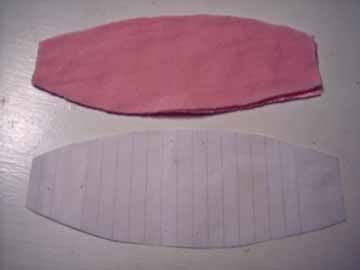 It worked. I added a piece of fabric covered elastic to the final slipper for the faux "Mary Jane" look and to help the slipper stay on and wa-la! A little ballet slipper. (or shoe or whatever you wanna call it)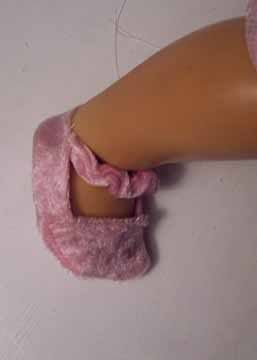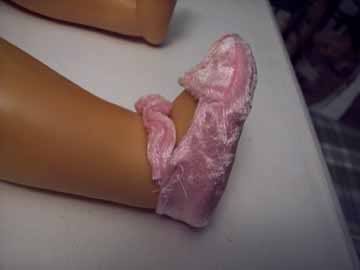 One lesson I learned in the building process of this slipper is
never
ever ever work a prototype up in velvet. Its hard enough to work regular sized items in velvet let along teensy weensy slippers. Anyways, wish me luck as I try to duplicate this slipper for dolly's other foot. I did make a pattern as I was building so it will be much easier. Who knows...maybe designing sewing patterns is in my near future. (or, maybe not)