Finally...I have a few minutes today to show you the extremely PINK princess bedroom that little Chloe now lives in. First I will show you what existed
before
.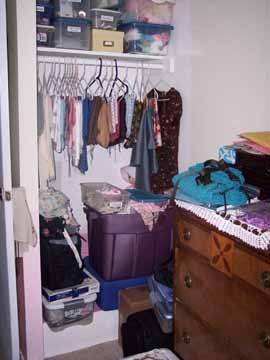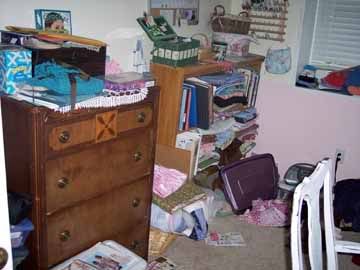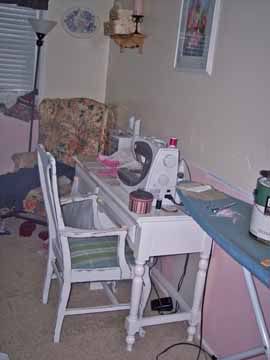 Are you ready to be blown away by PINK??? If it wasn't pink enough before (as my sewing/craft room) it sure is now!!!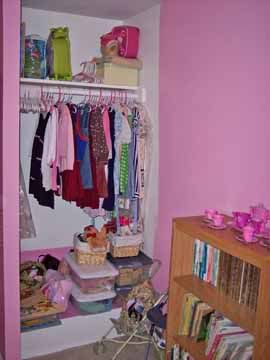 And now.........the moment you all have been waiting for....THE PRINCESS BED!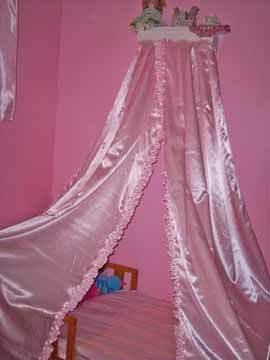 I found the satin for the canopy at Joanns in their "halloween" clearance section. I was actually walking by to locate the tulle for her canopy because I knew tulle was about $1.50 a yard or something like that.
Very cheap
. I barely noticed the sign for the halloween fabric because I don't like halloween. Bright purple satin with spider webs all over it or black with orange glitter or some other horrific color combination that I can't abide to look at or even mention. But as I was walking past, something pink caught my eye.
WAIT!
Pink???
In the halloween section? Ahhhh...now we're talking! Then I noticed the sign.
70% off.
Hmmm...but the pink satin fabric would probably be like $12.99 or more a yard so it still wouldn't be as cheap as tulle. The price? $4 a yard. Yup. 4 dollars for 1 yard. The wheels in my brain starting rolling doubletime. Not being the expert at math, I quickly calculated that it was close to the price of tulle. (thats the best I could do on the spot) Being at home now with my calculator, I can tell you that I paid $1.20 a yard for this gorgeous pink satin. Can you beat that????
It was not fun trying to get the ends cut even though on such long lengths as I needed for the canopy. My cutting mat is about 18" long by 12" wide. Not very big at all when cutting something so long. But I managed and I do think it turned out quite princess-ey indeed. I pleated the top of both panels and James helped me staple it to my little white shelf which we then hung securely on the wall and Chloe now has the most delightful hiding spot in the world. Of course, she no longer has room to sleep on her bed because every doll and stuffed animal she owns must now be in her "princess palace" with her.
It really is the cutest thing. Every morning when she wakes up and every night when I put her to bed, she announces "I God's little princess." To which I agree wholeheartedly.