This is a rough time of year for some. I am having a hard time getting over how dark it is....
all the time
. Why should I even open my window blinds when its just as dark outside as it is inside? That is hard for me to cope with. Where is my sunshine? Where is my bright blue sky? Where is my warmth? Gone! Gone from this bleak winter.
So...when I feel depressed and down in the dumps and slightly overwhelmed with the busy-ness of the holiday season, what do I do? I get out my doll clothes patterns and my scrap bin and I spend three days sewing doll clothes.
First I attempted some Barbie clothes. (because you all know my infatuation with Barbie)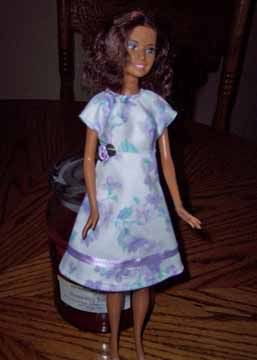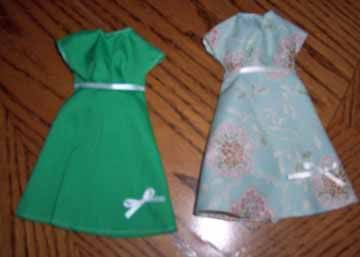 For the dresses above, I used a vintage Simplicity pattern #5215.
This number is now a baby doll pattern. I can't find a date on my fashion doll version but I am guessing its from the 60's by the design of the outfits. The three dresses above were view 3. I struggled with the green dress a tad when it came to the neckline. Golly gee but these barbie clothes are teensy. I got the knack of it by the third dress though (modeled in the first picture) and I do believe I am getting quite good at these miniature doll clothes. I can almost rival the store bought clothes.
This go round I've been double seaming my seams and trimming them. I feel that this makes a more quality barbie dress for little hands to play with. In this regard, my clothes are now better than the ones you buy in the store.
Anyways, on to the
fancy
things.
I used some of my vintage bed skirt fabric for this dress. I adore the luscious dusty rose color and am pleased that I can use it for so many things. It does have some little nicks and tears in places and while I do my best to make sure they aren't in the dress, sometimes they sneak in. I think this adds to the caracter of the dress though. A vintage fabric and a vintage pattern sort of make a vintage dress, don't you think. (even though it wasn't made until three days ago) Anyways, this dress was also from the vintage pattern above. View 1. I was so pleased with how quickly it was done and how simple it actually was that I decided to try my hand at some other patterns as well.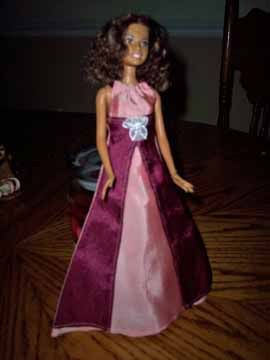 For this special dress I used a modern
Simplicity pattern #4702
and a combination of my gorgous bed skirt fabric and some leftover fabric my mother gave me from my sweet 16 dress. (which I should show to you all sometime) After having trouble the last time I made this dress with losing the ribbon that ties around the neck (and keeps the dress on the doll) an idea popped into my noggin. Why not sew the sides of the top to prevent the ribbon from sliding through the casing? Voila! That was it. We will no longer lose the ribbon.
So, I can't just sew Barbie clothes. I gotta have breaks. I gotta have inspiration. I gotta have variety. So, out comes another vintage pattern and my girlhood doll.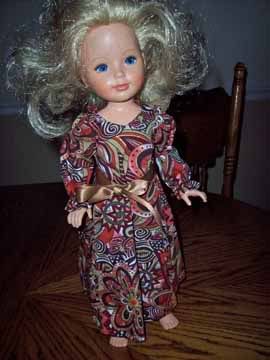 I used
Simplicity 9138
which is dated 1970 and I made view 1. Now, my
Kimberly doll
is only 16" tall so I had to alter the length of this pattern to fit her properly. About 2" off the length of the sleeves and bottom hem is all it takes for this pattern to fit perfectly.
Just a little side note here...as a girl, I lost most of my pieces to this doll. She came with shorts, a t-shirt and some roller skates. I am so excited because I found some roller skates for her on Ebay this week for less than $2. They are due to arrive any day. Now if only I can find the t-shirt, I would be set.
I decided that Kimberly needed a princess dress. I used the same view as the african dress above and some leftover fabric from Chloe's princess dress.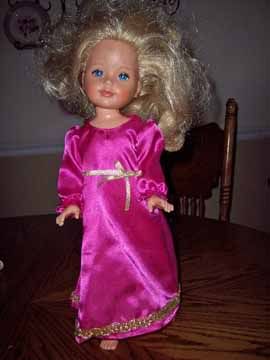 I was feeling the vintage this week so I pulled out another vintage pattern and made a baby doll dress. This time I used Simplicity 4839 and I let Chloe pick the dress. She picked view 2.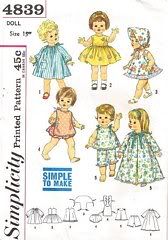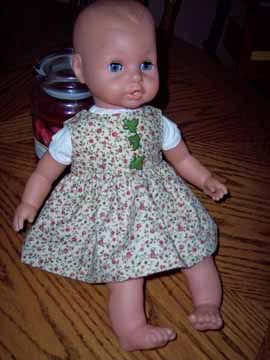 I added three ivy leaf buttons down the front. I almost added some cream lace to the bottom but I decided I would save that for a more "special" baby doll dress. (the next dress she picked is from one of my newer patterns and its a christening dress)
Now, gotta get back to Barbie. First, a ballerina dress. (for my little ballet girl...she's gonna love this dress)
I used some leftover lining from Chloe's coat I made a few weeks ago and that Simplicity 5215 pattern above. I did end up adding a trim of lace to all three layers of the skirt though. I felt that since it was a ballet dress, it needed a touch of lace.
Now Chloe knows I've been sewing this week and she may (or may not) realize that I am sewing doll clothes for her. She does not know what they look like though nor does she know they are a Christmas present for her. But yesterday, while playing barbies together, she mentioned that her barbies needed some jammies. I scoured through her barbie drawer to no avail. We could not find any jammies. All barbies need jammies, right? (she currently uses a dress which she feels are really jammies)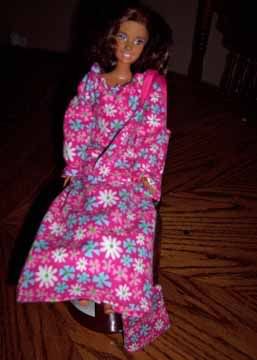 I used
McCalls 4046
for this nightgown and some leftover fabric from Chloe's nightgown. She thought that was great. I got a creative burst while making this and so I quickly made a matching pillow (not filled yet) and sleep over bag.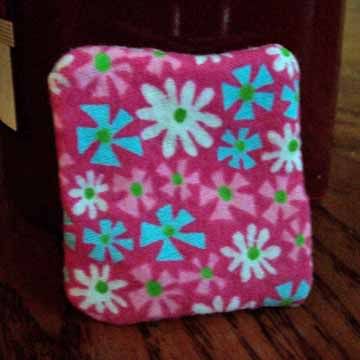 And I've been inspired. Truly inspired. Everytime I walk into a thrift store (or garage sale) and see all those naked Barbies, I just feel so sorry for them. Ratty hair and all. Well, check out this
etsy shop
. Some of them even have before and after pictures. My new goal for 2009 is to learn how to give Barbie a makover. (and other dolls as well...maybe.)
Okay. I am off to do something. What? I don't know, but something. Could it possibly be more doll clothes? You never know. I haven't even made a dent in my scrap tote yet.