The decision was made yesterday (in regards to which crafty thing I would endeavor) and I chose BOTH. First I cut a billion squares.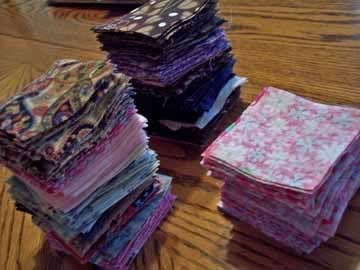 Once my back protested standing on the hard floor for such a long time, I put the scrap tote back in the closet and brought out the knitting.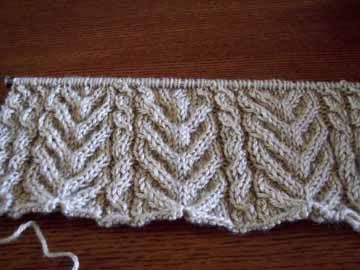 Now this square takes much longer to knit than my heart has desire, yet I press on. It is my very first attempt at knitting cables and, in case you don't know, let me tell you that cables are tricky to master. I believe my fingers are beginnning to catch the knack but they are still a tad slow. One personal preference I found is that the plastic cable stitch holders are better than the metal ones. It seems to hold the yarn in place easier so the stitches are less likely to slip off as I am knitting the other needle. I use the
Clover cable stitch holders
.
So, now I am off to knit more on this square and hopefully finish it today. And then maybe I will tackle a paint project around the house tonight. We need to make this house
shine!