Fear:
1. a distressing emotion aroused by impending danger, evil, pain, etc., whether the threat is real or imagined; the feeling or condition of being afraid.
2. a specific instance of or propensity for such a feeling: an abnormal fear of heights.
3. concern or anxiety; solicitude: a fear for someone's safety.
4. reverential awe, esp. toward God.
5. that which causes a feeling of being afraid; that of which a person is afraid
fear, angst, anxiety, cold sweat, cowardice, trepidation, foreboding, misgivings, jitters.
At this point, you may be asking, "Why the fear? What does Anna have to be afraid of?"
Let me show you.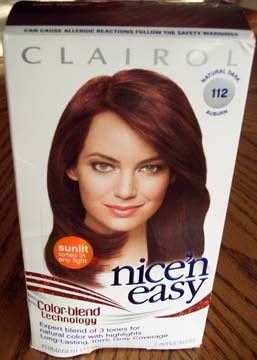 Yes, I have gray hair and that gray hair must disappear. But, while I was shopping for the perfect dark brown hair dye that would match my current hair color, James asked me to go a different color. I think he would love me blonde or something. So, I went all out and bought red. This was as adventurous as I could handle. Please note: this dye was purchased a week ago and has yet to make it into my hair. (I guess the adventure died out when I got it home.)
Today is the day. At some point today I will go from being a brunette to a red head. I am scared senseless.