I am going a little crazy. No...I am not insane (although my mother might disagree with me on that point) nor am I "technically" crazy. (she would probably disagree with that statement as well) The truth of them matter is simply that I don't know what to do with myself while my house sits in pristine order and I am not allowed to mess it up in case a potential buyer wants to see it in...oh...say 15 minutes? (which is not long enough to put
anything
away.) So, what do I do with myself in the meantime?
Yesterday I took out my scrap tote (which, miraculously, is still bulging even though I made a plethora of doll clothes before Christmas) and began cutting my two and a half inch squares for a scrap quilt. I keep them in a decorative box on a shelf in my craft room for the time when I finally have enough sqaures and enough variety to make a truly scrappy scrap quilt. I got bored with that after about 10 minutes and my eye caught my decorative hat box sitting under my bed. Okay. So I guess my eye didn't "catch" it since it was hidden under the bed. Maybe I was talking about my mind's eye. Yes. That was it. My minds eye caught sight of my decorative hat box sitting under my bed with my teensy tiny scraps in it. (the ones left over after I have cut the two and a half inch squares.)
Now this is where my mother thinks I am crazy. First of all...who, in their right mind, collects two and a half in squares for a quilt? My mother much prefers something at...
oh
...about five inches or so. I do like my small things, don't I? Anyways, as I was describing my stash to her and informing her that I am uncapable of throwing away even the teensiest scrap, she gave me permission to throw them away. She even said that she had to give herself permission to throw them away. Well, even with my mother's permission, I can't bring myself to throw them away. I paid good money for that fabric and it is so pretty, after all. What can I do?
And then an idea struck right between the ears.
Crazy Quilt
. I want to make a crazy quilt. Forget this cutting out of endless squares for the day. Let me get a little crazy. Here is what I came up with.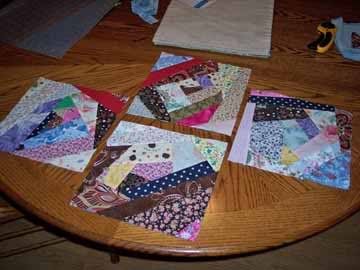 Total randomness. That is, after all, what a crazy quilt
should
be. Random. No rhyme or reason. I am not judging color next to color or pattern next to pattern. I look for the size I need and if it fits, I sew. And they turned out quite nice, in my opinion. I went back and made three more last night before bed giving me a total of 7. I need 8 to span the width of my bed and probably 10 to span the length. (which means I have alot more squares to make) I am not looking to finish this quilt this week or anything. The plan is to sew squares as I have the scraps and someday, some year I will have enough to make a king size quilt.
I am off now to play dollhouse with Chloe and clean the bathtub. I have yet to decide what sort of craftiness I shall partake in today. I am torn between cutting more two and a half inch squares (so I can have more teensy scraps to sew crazy quilts) or knitting on my afghan. Hmmm...too many decisions.