This morning, while I sat on the floor entertaining Barbie, Chloe pointed at my foot and exclaimed, "Mama! What's that?"
She saw the hole.
Yes, there was a hole in the bottom of my sock. Ugggg. Another pair bites the dust. Off came sock one which landed in the garbage can. Off came sock two...and as sock two was launched into space, it hit me.
Waste not, Want not
. Oh boy. What can I do with a sock.
Then it hit me as I retrieved both socks from the garbage can. Puppets!!! So, I got out my supplies and created Olivia.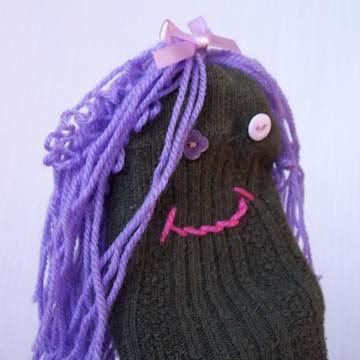 Olivia is a tad bit shy, but once you give her some attention she comes to life and is actually one of the most vibrant personalities you could ever meet. She loves singing and looking at photo albums.
Now I gotta figure out what to do with the second sock (the one with the hole.) I am thinking it might make a nice Barbie coat, complete with pre-fab cables.