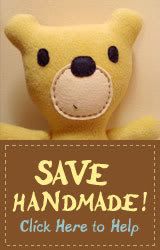 Save my business...PLEASE!
A new law
is being passed the will not allow small businesses like myself to sell any handmade items for children under the age of 12 without certification that states its lead free. (each item needs to be certified for the cost of $500 to $4,000) I can't afford this.
By Feb 10th, all items for children will have to be removed from my website and my etsy shop or they will be viewed as illegal and I will be heftily fined or imprisioned. Can you believe this?????
I am in shock! I am pleading with everyone who reads this... please, please, please...write your congressman or representative. Get the word out there. We don't have much time and this has GOT to change.
For more information, please visit the
Handmade Toy Alliance
or click on the button or link above.