I decided that I would have an Etsy Find Friday here on my blog. I spend hours a week perusing Etsy just to find what I can find. It is extremely fun and quite addicting. I thought you all might enjoy a little post once a week of the delights I find in my wanderings. They might be things I have purchased, things I want to purchase (which you better not purchase before I get to it) or just things I find intersting.
One of the ways I enjoy searching is by combing two random words and seeing what comes up in the search engine. Today I typed in "Tea Cloud". Here are some of my favorites that came up. (click on the pictures to take you to the store)
Set of 4 Curly Cloud Coasters
from
the collected adventures of bbBarry
. Of course I had to include these. For obvious reasons.
Sweet Cake
from
A Fanciful Twist
A very unique find considering I typed "tea cloud".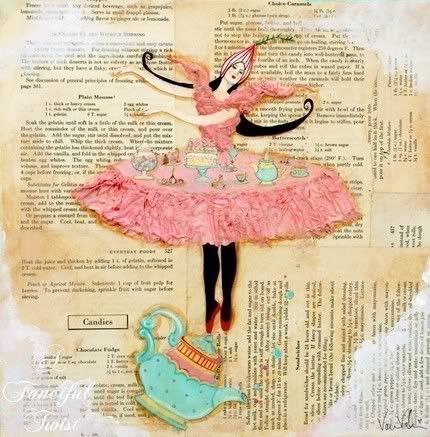 Cloud Cups
from
Burntnormal
I had to show you these cups. They are my most favorite find during my "tea cloud" search. Aren't they just unique? I love them and they have been added to my wishlist. I am wondering just exactly how I would drink my PG Tips from them.
Okay. So I must be off now to sew a gift for Chloe. I have the absolutelyest mostestly adorable Valentine's gift for her and I can't wait to show you all what it is. I gotta go make it though.