I did it! I really did it! I designed some baby booties. Baby Sandals to be precise. I know I said I was giving up designing, but I just couldn't help myself. Let me show you my sandals and then I shall explain the sudden burst of designing inspiration.
That is the sandal in plum for a 6m size baby.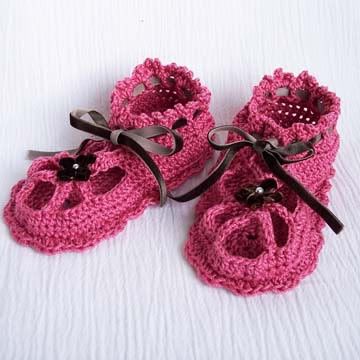 Those are warm rose sandals for an 18m size baby. They were a custom order through my website. She asked me to design some baby booties to go with my Spring Blossom dress she had ordered (and I made) a couple of weeks ago and this is what I came up with. I did modify the design a bit after I finished her set. I made the shell stitch around the sole of the bootie more "ruffly".
So, why the sudden desire to design another crochet pattern? Well, I have come to the conclusion the past few weeks that having a pattern testing forum is not for me. I was way too reliant upon my testers for everything. This was my own fault and something I feel terrible about, yet I have learned a valuable lesson thru all this. I need to test my own patterns thoroughly myself. Then, and only then, should I even consider asking someone else to test the pattern for me. And even then...I don't really need a testing forum to test the pattern. One or two testers is enough. (because I have tested the pattern thoroughly myself, you see.) That will also save me tons of time that was previously spent running the forum. So, I have designed the above sandal and I have tested it in every size. (more pictures to come later)
See? Now the whole designing process is reliant upon myself. I can design and test patterns much quicker this way too. I started designing that bootie yesterday and already the pattern is typed up and tested in every size. The only thing I have left to do is edit the diagram pictures and add them to the pattern. I should have it ready to sell tomorrow. (and in case you don't crochet, the booties will be for sale in my
etsy shop
.)
And now I must be off to shower and get ready for date night. Oh...and post my Etsy Find Friday! (can't forget that!) Have a great evening everyone.