I simply ran out of time yesterday to show you our St. Patrick's day celebratory fun. We were just so busy crafting our goodies that the day flew by. Well, Happy Belated St. Patty's day and here is what we did to celebrate.
First, we made green shamrocks to eat. (or "rocks" as Chloe calls them)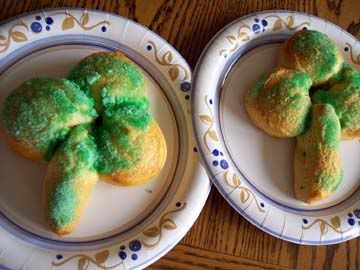 Refrigerated biscuits and green sugar. (just two drops of food coloring made this intriging green sugar...yum)
Then we baked up some Irish Soda Bread with Herbs. Delicious.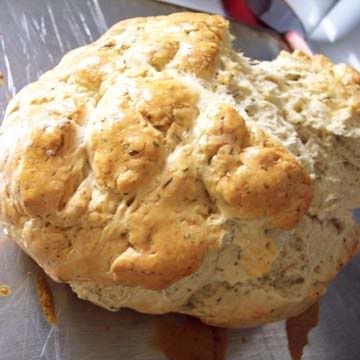 I don't think I've ever had soda bread before but let me tell you...this was good. Interesting, but good. Chloe and James liked it as well, so we have a hit on our hands. I also tried to make Apple Mash but that didn't go over nearly as well as the Soda bread. Chloe gingerly stuck her tongue out onto the pile of Apple Mash on the spoon and grimaced. "I don't think I like it, Mama." James didn't even look at it. (he doesn't eat mashed potatoes anyways)
Anyways, then we made a "candle" out of paper. I explained to Chloe the significance of the Shamrock while we built the candle out of a paper towel roll. The shamrock represents God. Each leaf represents one of the three persons of God. (God the Father, God the Son and God the Holy Spirit) St. Patrick was the man who introduced Ireland to Christianity and it has been said that he used the shamrock to explain the God triune to the Irish. I think Chloe just enjoyed playing with "fire" and burning my arm with it.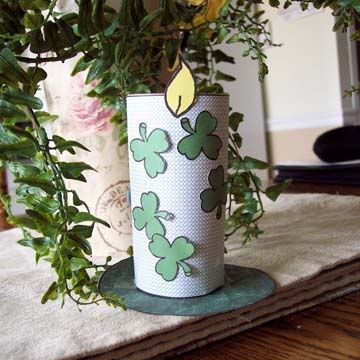 I hope you all have a delightful day today. We have fog and greenish grass. (very "irelandly" today) On a grayish day like today, we need to paint something bright and cheery. I shall be back later with our creations.