I need a little "pick-me-up" today as I am not in the best of spirits. Since I am feeling a bit down, I thought I would pick some of my favorites from
Etsy
that make me smile or laugh. We all could use a good laugh every now and again, right? (remember to click the pictures to see the listings)
Rubber Chicken Amigurumi Crochet Pattern by
These Loving Hands
Yesterday I asked my mother what her favorite bird was and after she listed chickadee and bluebird she paused, gave a chuckle and said, "Chicken". After I composed myself I responded with, "Chicken?" To which she replied, "Yes, they make me laugh. They are so funny to look at and watch."
So, I used "chicken" as my search term and what you see in the picture above appeared before my eyes. I instantly knew what my mother meant. Yes...that little guy would make me laugh every time I saw it. So, I will be buying that pattern and crocheting myself a rubber chicken very soon. (and one might just happen to show up in a package to my mother soon. You never know.)
Polkadot Chicken Fried Egg Lampwork Bead Set by
DeniseAnnette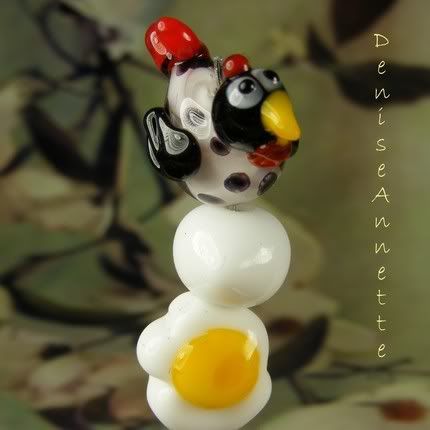 In keeping with the funny chicken theme, I thought it best to include the above listing. It cracks me up. Totally my sense of humor. Okay Mama. I get it. I get the whole "chickens make me laugh" point now. (Mothers are always right)
Sugar and Spice Tags by
Farouche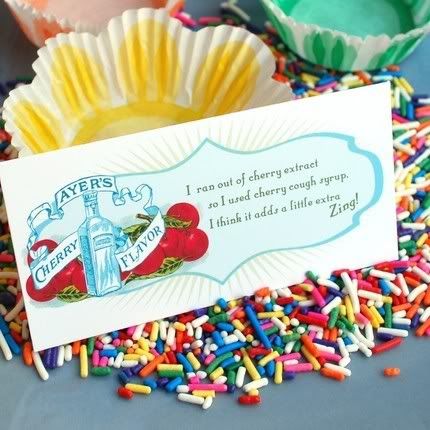 Okay. Now those are just hilarious. I am gonna buy them just as soon as I finish this post. (and it looks like she relists them so you can buy them too...later.) Go look at the whole listing. Its a set of little cards like that to include in your baked goodies for new neighbors or anyone else you would bring cookies or a casserole too. Oh my goodness....I must have these cards.
Maple Key Cat by
Marjji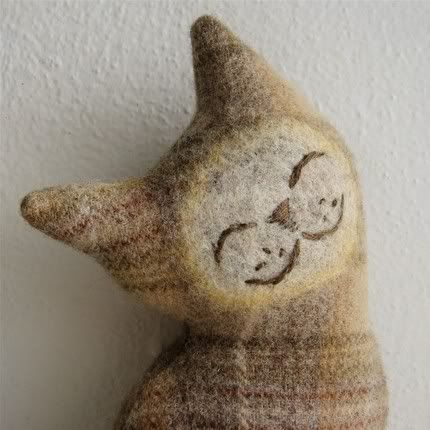 All right. Admit it. That cat makes you smile, and you know it. I can't help it. It makes me smile. I love it. Who doesn't smile when they see a smiling cat? (bad people...that's who)
Jesus Loves Me Soap by
SpaLuxeries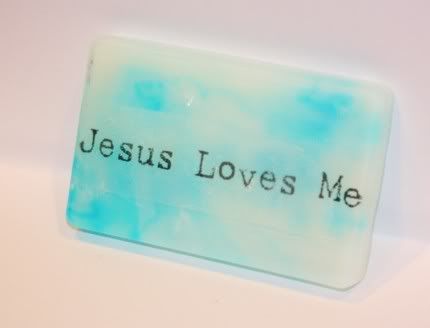 On a day like today when I am on the verge of tears which are about to burst forth at any given moment, its good to be reminded of the simple fact stated on that little bar of soap. And hey...that's also pretty creative. I also need to be reminded of this next one too.
Philippians Verse Soap by
SpaLuxeries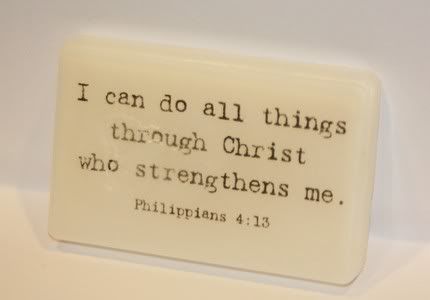 Because I can! I can even get through this day with Christ by my side. Check out the other soaps in her shop. Such a clever idea and what a unique gift idea. I can see many gifts being checked off next years Christmas list with these soaps.
Well, I must be off now to put Chloe down for a nap and photography a dress I made so I can show you some sewing projects I made this week. Oh...and I got a special little present in the mail today which also makes me smile so I will have to show you that too. (and make you all just a teensy bit jealous too)
I shall be back!!