And I think she missed me as much as I missed her. Not that we spent
that
much time apart, but you know how tempermental these machines can be. If you don't spend quality time with them at least once a week, they get cranky. Loosening bobbin stitches, breaking threads, tangling things inside the bobbin holder (where it is extremely difficult to reach, mind you.) No...its best to just spend the time with them so they will, in turn, create beautiful projects.
Like this gorgeous dress for myself. Bernina didn't finish the dress in time for me to wear it to the airport to pick James up on his return from Iraq. (need I remind all you dear readers that this was last October?) This poor dress dress sat in my workbasket accumulating wrinkles and dust for pretty near 5 months. Of course, I shouldn't tell you that the blasted iron pressed the interfacing on the wrong side of the neckline facing so it was not entirely Bernina's fault the dress got set aside. Needless to say, that iron will no longer be working with us. (given the
mishap she performed after completing Chloe's princess costume
)
So, the new iron worked like a dream this past week and Bernina was able to complete her marvelous wonders and I got a new dress. Not bad...not too bad at all.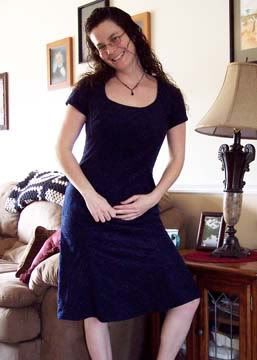 Oh...and she also sewed the jacket to the dress as well.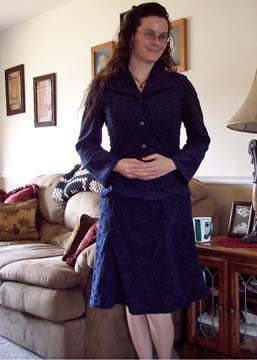 This jacket is not for the faint of heart, let me tell you. It was everything I could do to push myself to complete it. Slightly tricky to understand the patterns instructions at various points. But it got done and I received about the best compliment I could ever receive for something handmade from dear James. "It looks nice. It looks storebought." (Nothing beats storebought in his book...so if I accomplish a "storebought" look then I am doing awesome.)
After a complicated jacket like that I needed something slightly quicker and easier to get my into the sewing mood again. (not that its that difficult to do that, but you know...)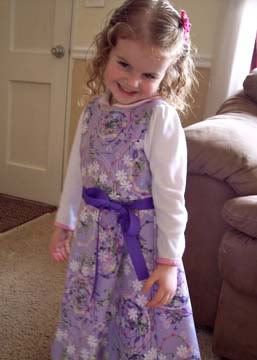 The fabric is what makes this dress. Its one of those cheap "See and Sew" patterns (
4956
) for something like $3 that never ever
ever
go on sale for $.99. I finally broke down and paid the full price for it (because regular patterns weren't on sale so I couldn't buy
the one I wanted
.)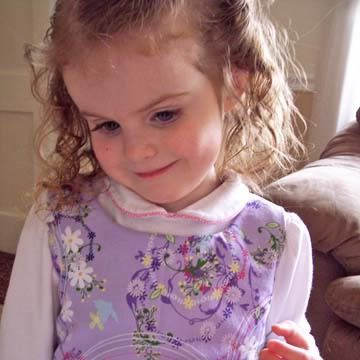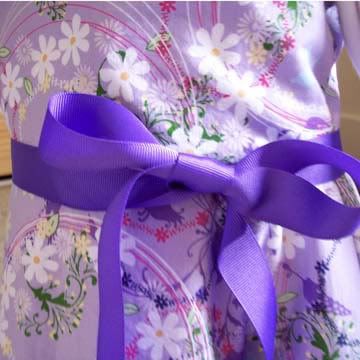 Oh...this fabric makes me long for spring. I love the bright colors. And I bet you all can't believe that its not
pink
. I know, right? I picked it.
So, last night I couldn't sleep. Not a wink. Too many issues weighing heavy on my mind I guess. (like the lack of a baby in my belly...that's the major one today.) What's a girl to do? Some people expect me to stay in bed until I fall asleep. Well...I am sorry but this girl can't take it after two hours. Staring at a dark ceiling for that long can cause...well...it could cause craziness. Crazier than I already am...and that would be quite scary to behold. So I got up and made a purse.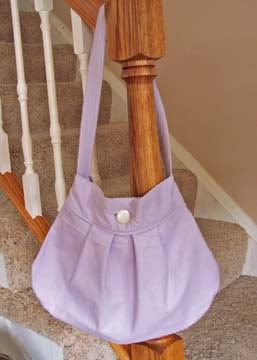 I've been seeing a TON of purses on Etsy that I just adore. But for some reason I can't bring myself to pay $75 to $90 for a cloth purse. (or any purse for that matter) I just can't do it. I can't. It goes against my nature or something like that. (or my hubby would be pretty mad which is as good of a reason as any other) So, when a girl can't sleep at midnight, she gets up and makes her own.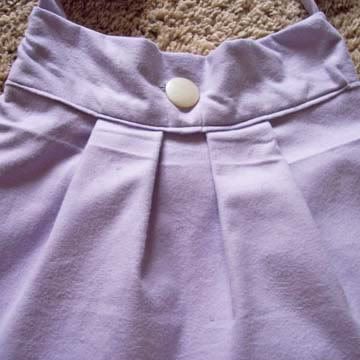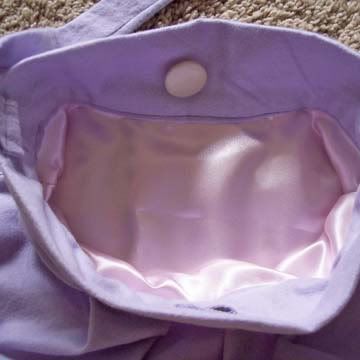 I used some leftover fabric from some pillows I made a couple of evenings ago (pics coming in a moment) and sat for about 30 minutes playing with the pleats. Once I got the look I wanted, it was simple, really. Just sew up the side seams, cut out a lining for the inside and sew, baste the lining in the purse, make the folded part, sewing it over both sides of the outer purse and lining (which, next time I will use the "stich in ditch" method) and then the handles. Easy, peasy. Took me 2 hours and I love it.
So, lavender flannel is not my favorite fabric for a purse...but the thing is huge and useful too. AND...its lined with pink satin!
I do wish I had made the purse with the pink satin and lined it with the flannel but oh well. There's always next time.
And the pillows? Yes, I finally made some pillows for Chloe's princess room. She actually asked me to make them the other night as I kissed her goodnight. So, I did. I will give them to her as a birthday gift though since her birthday is next week and all.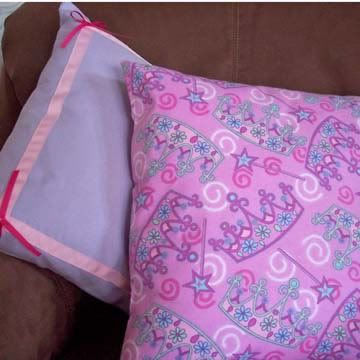 And the little present I got in the mail today that I mentioned in my earlier post? Oh yes. Don't forget the towel to catch all that drool. Are you ready????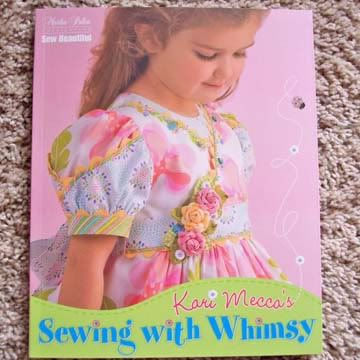 IT CAME! It is here and I am excited as can be. I was having a rough sort of day and thinking to myself that I needed a little "pick-me-up" and I heard the storm door open, package drop and storm door close. I knew something was left for me. And I was right! It was my BOOK! Yippee! I am so excited and I can't wait to try these patterns and other delicious items of whimsy. What a treat! What delightful treasures this book contains! I will have to tell you more in another post because this one is plenty long and I need to go clean the slobber off the pages of my book before they stick together permanently. All I can say is Pink Rick Rack Roses. That should be a big enough clue for you. Yup. Pink Rick Rack Roses...here I come!
Have a delightful day everyone! Look for a smile today...anywhere. In your home. In your child's face. In your honey's arms. Find a smile. You will feel better when you find it.