I don't recall if I told you all what my mother bought me for Christmas this past year so I shall tell you now just in case I didn't. My dear mother bought me a subscription to
Mary Jane's Farm
magazine. If I wasn't a farmgirl wannabe before, I surely am one now. This magazine was all I needed to push me over that farm fence and into the cow pasture. Oh ya. I am inspired. My dreams are MUCH more pronounced. I definitely wanna be a farm girl now.
In the city, of course.
The latest issue appeared on my doorstep Saturday. I couldn't look at it during the party which sort of bummed me out, but I waited patiently until Sunday evening. Looking through the magazine something caught my eye. A knitted rug. I read the instructions and lo and behold it was made from
t-shirts
. I knew immediately that this was something I had to try, only I wanted to crochet it instead of knit. So, I cut up some of James icky, stained t-shirts and a couple of mine as well and this is what came of it.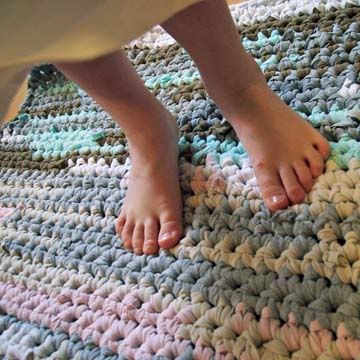 I am kind of tired of throwing out old clothes. Clothes that no one would want, even for free. Clothes with arm pit stains or a little bleach spot somewhere. James shirts are much worse too. Grease spots. Holes. Icky old things that should no longer be seen on him, yet for some unknown reason ARE. These clothes pile up in landfills and just sit there for the rest of time. Seems a shame but what can I do? No one would want to wear them. But this rug is almost pretty, don't you think? Very useful and that is 7 t-shirts that won't be filling up the dump. I feel better knowing that. I think I shall make more things from old t-shirts. It was kind of fun.