Ack! Why is it that whenever I set a goal, no matter how small, something always prevents me from attaining said goal? So, I knew on Tuesday that I might be getting a little bit sick. Boy...a little bit was an understatement. James ended up taking me to the doctor's yesterday for fear that I might have contracted that pig flu. I politely informed him that I did NOT have the pig flu and they would only tell me I had a little cold and to "go home and get over it". Sure enough, that is what the doctor said. Oh...he said it in a much nicer way. "You have a upper body virus" which is just a nicer way of saying "you have a cold." That way you don't feel so silly going to the doctor for something so trivial.
Anyways, I did manage to get two things on my list finished this week. Tuesday I finished Chloe's Easter dress.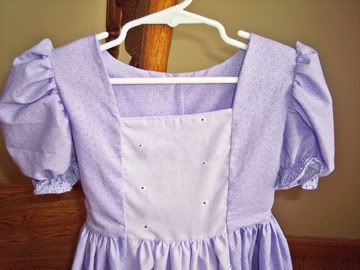 Chloe is going to look like a little doll...next Easter. I guess the good thing about not finishing this dress on time was the fact that it is slightly HUGE on her. No...actually VERY huge on her. The sleeves fall off her shoulders. I think this might fit her next year, and if not then the year after that. LOL. This dress was made using a pattern called
The Princess Dress by Primrose Lane
. I bought it from the website
Heirloom Sewing for Childre
n. Beautiful site with beautiful patterns and fabric.
Now the Tutti Frutti dress. Why do I call it my Tutti Frutti dress? Well, simply because that is the name of the line of fabric. Tutti Frutti. And they have the brightest colors for little girls. So cute. So sweet. I loved it and knew I wanted to make a pillowcase dress with it. Here is what I came up with. (on my second attempt)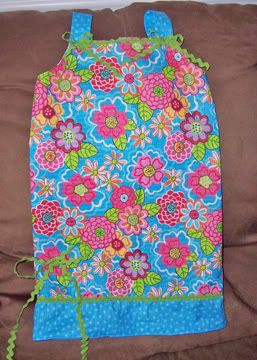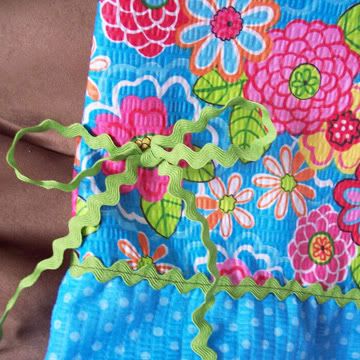 The first attempt at designing my own sewn dress came out looking like a mermaid costume. I am afraid that my second attempt fared no better. I added a bit of bright green rick rack (love that stuff) to the hem area and across the bodice just to take away from the "boxy" look of the dress. The rick rack tied into bows helps out in that regard as well. While I am not entirely pleased with this dress, at least I tried. And as soon as Chloe wakes up from her nap I shall try it on her and see if it looks any better that way. I am off now to begin sewing on my brown shirt dress. Have a wonderful afternoon everyone.