I have created a "lightweight" menu plan for our four days in the wilderness this weekend. This go round I am aiming for "lightness". Things that don't require much preparation but that are light and will travel easily. But first let me tell you of my eclectic trail mix I whipped up today. Mind you, not the healthiest mix on the planet but seeing as how I included whatever I found buried in the back of my cupboard I am quite pleased with how it turned out.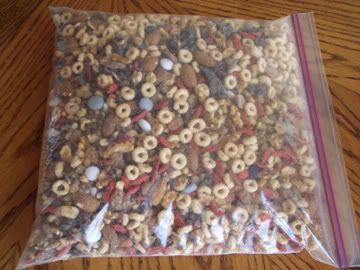 I dumped in...
3 box shakes of Cheerios
Half a bag of whole Almonds
3/4 a bag of Heath toffee bits
3/4 bag mini chocolate chips
1/2 cup Yankee colored M&M's
1/2 box golden raisins
1 cup raisins
1 bag chopped walnuts
1 cup dried
goji berries
1 cup raw sunflower seeds
Yummy! I think even Chloe will find some things in here that she likes. Hooray! My next post will be all about our menu plan and the things I will be doing to make the food load lighter. Have a fabulous afternoon everyone.