This is the phrase I heard a few times yesterday. Granted, each time in a slightly different manner but that was the gist of what was implied. My dear husband had seen quite enough cards for the week. He even mentioned a couple of times this week that he hopes I "will use all those cards". So, after yesterday's card making session I think its time to call it quits for a little while.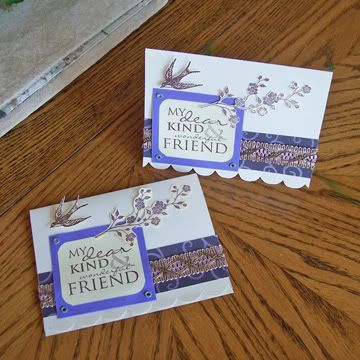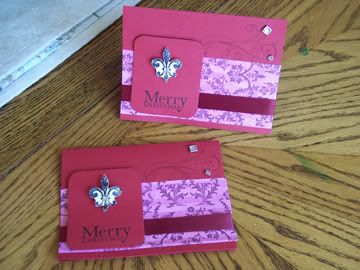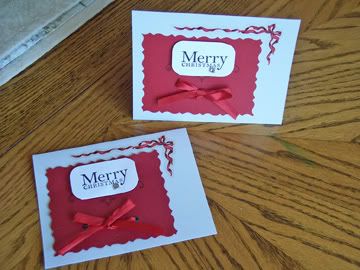 What else can a girl do when she has declutteration on the brain? I guess its back to the sewing projects we must go. Yes...and maybe this next week I should begin to think about decluttering that overflowing fabric scrap tote. Today I will try to work on that brown shirt dress that has been cut out since before Thanksgiving. Before I do though I will show you something NOT card related at all. I figure if I have suffered you through a weeks worth of cards this is the least I can do. I made these cozies this past weekend.
A 4-pot teapot cozy made from some scrap yarn I had leftovers of. I think I might list it sometime next week in my Etsy shop. We will see.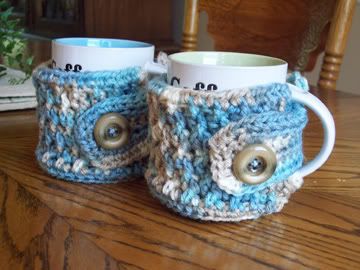 And these are for a girlfriend of mine who is in the process of buying her first home with her hubby. They will be a housewarming gift. I have enough of that yarn leftover that I might whip her up a tea cozy as well and just make it a complete set.
Well, its time for me to run. The big news I have to tell you will have to wait another day. It needs a post all by itself. I hope you all have a wonderful day. We finally have some glorious sunshine and bright blue skies around here so I will mow the yard and weed the front flower garden at some point during the day. Probably when I need a break from sewing that brown dress. Then we have a 7-8 hour babysitting job this evening during which I will most likely begin crocheting a dress for my new niece I will be obtaining this summer. More on that topic at another date. Have a fabulous day.