I have the exciting privilege of co-hosting a baby shower tomorrow for a dear friend of mine with a dear friend of mine. The theme? Ducks. Rubber ones. These things are so cute. I don't think anyone on the planet can look at a rubber duck and not think "awww...how cute."
So, the first thing I needed to do was
find
a rubber duck. Not such an easy task, or so I thought. I had not a clue where to begin on my hunt, but I was determined I would find, not one, but an entire family of rubber ducks. I headed to the dollar store first but no luck. I thought I might as well venture into Kmart next door before I began searching down my long list of possible stores that might carry a family of rubber ducks. Lo and behold, I found it at Kmart! A bag of 16 rubber ducks for $10. I couldn't have done better. 5 of them for the cake and the other 11 for Chloe. (you shall see what happened with a few of hers on another day. They had quite an adventure.) I needed 5 duckies because this is her fourth child. And of course I needed the Mama, right? Here is the cake I came up with using the 5 rubber duckies.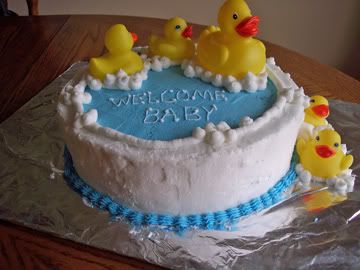 I am very pleased with how the cake turned out. I will give it the grade of B. I got the consistency spot on this time. It was perfect. What I could not do was get the icing smooth and without a bunch of chocolate crumbs in it. I am getting better though. The thing I am most proud of though are the shells. I mastered them on this cake. They are about as perfect as I can get. I can't wait for my dear friend to see her cake tomorrow after church. She also decorates cake so she will be the true judge of my B grade. I hope she likes it.