My sister's husband has been serving in Iraq for the past year. My nephew fell in love with tanks about the time his Daddy left. (He was previously the gunner on the tank...the guy who sat on top and shot the gun)
My sister and I planned for me to ice a tank cake for Alissa and Timothy's birthday. (they are 1 year, 4 days apart...Irish twins) Thank goodness Sarah's girlfriend ices cakes and provided me with all the gidgets and gadgets I've become attached to for my cake decorating addiction.
Here is the cake I came up with yesterday...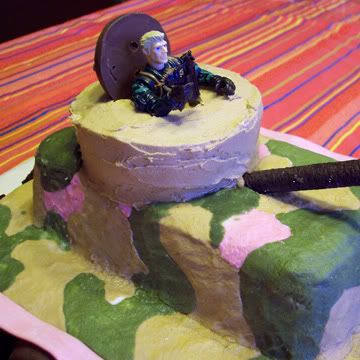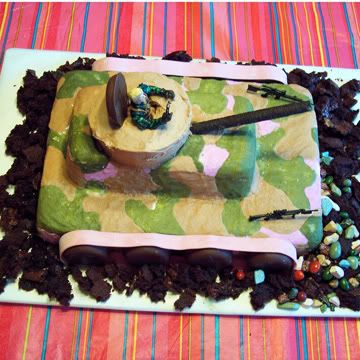 Sarah baked two 9x13 sheet cakes. The bottom layer is strawberry cake and the top layer is Funfetti. Then we made a loaf chocolate cake for the top of the tank. We cut a circle of brownie for the hatch. Round Keebler fudge cookies are the wheels and the lid of the hatch. GI Joe's legs were removed so he sits inside the hatch. We use Bubble tape for the tracks. We left them pink because we used a bit of pink in the camo design. We wanted to girlify the cake a bit since its for both Alissa and Timothy. We crumbled the leftover brownie for dirt around the base of the tank. Sarah found some candy that looks like rocks in the bulk section of her grocery store so we used that to add some details to the tank.